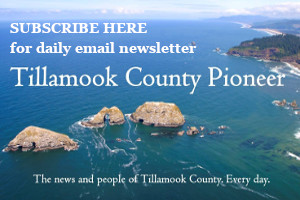 By Laura Swanson
One of the growing trends – pun intended – brought on by the COVID-19 pandemic is the resurgence of gardening, and as a Master Gardener, I encourage folks to get locally grown starts, especially for tomatoes. Yes, you can grow tomatoes on the Oregon Coast, if you start with a tomato that's grown here and acclimated for the coastal climate. And if you grow them in containers … And one of the best places to get your tomatoes (and peppers and dozens of other plant starts, scented geraniums, strawberries, herbs, etc. etc.) is Brickyard Farms. We visited with Shannon and took a tour of Brickyard Farms last month and you can see that tour below.
As an essential business, Brickyard Farms has continued to fulfill CSA boxes (that stands for Community-Supported Agriculture) and it's a subscription for weekly vegetables. Shannon boxes up "what's fresh" each week and subscribers pickup their boxes; and you can still join the CSA program. Or you can order and select your favorites from the fresh list that Shannon sends out on an email each week.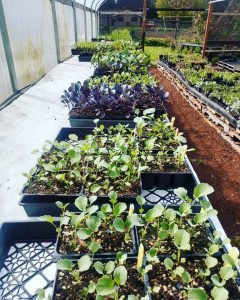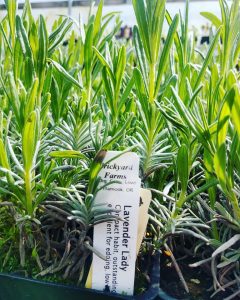 Here is what is available this week from the farm. Please remember to place all orders 24 hours in advance. Delivery available upon request. Please remember that all orders are filled on a first-come first-serve basis.
Produce: Rosemary, Cuban Oregano, Sage, Keiffir Lime Leaves, Fingerling Potatoes (red, white or purple), Dried Porcini Mushrooms, Dried Peppers (see list below); Microgreens – Pea, Pac Choy & Radish Sprouts; Dried Oregano, Fresh Oregano, Chives, Dried Garlic Scapes, Dried Shaved horseradish root, Mint and Curry
Dried Peppers: Poblano, Buena Mulata, Black Hungarian, Anaheim, Jalapeno, Rezha Macedonian, Purple glow in the dark, Santa Fe Grande, Sugar Rush Peach, Hungarian Pumpkin Peppers, Thai, Cayenne, Turkish Sweets, Serrano, Green Bell Peppers, Bulgarian, Tabasco, Habanero – White, Chocolate, or Redm Trinidad Scorpions, Bhut Jolokia, Serrano.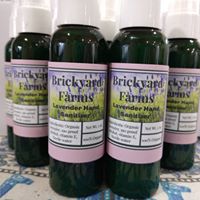 In her "spare" time, Shannon has also been making supplies of Lavender Hand Sanitizer as well.
"Come on out and tour the gardens and greenhouses. See all the edible plants and produce and so much more that we have available," said Shannon. "We are wearing masks and physical distancing – we will deliver your orders as well. Gardening and growing things is one of the best ways to be healthy and stay healthy."
Visit Brickyard Farms – open Tuesday through Saturday, 10 am to 6 pm at 4940 Brickyard Road, Tillamook; follow Brickyard Farms on Facebook, or call 503-815-8142 for more details.
Enjoy a quick tour of Brickyard Farms.