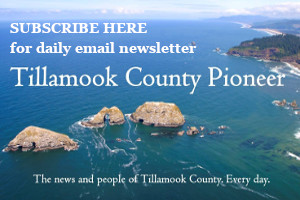 (Tillamook, OR)  As you prep your garden this year – make sure to incorporate some native plants! To "Bring Back the Natives", Tillamook Estuaries Partnership (TEP) is taking their annual spring native plant sale online this year.
"We had incredible success taking our fall native plant sale online in 2020 and we are excited to offer another opportunity for community members to purchase native plants this spring" said Alix Lee, Community Engagement and Education Coordinator for TEP. "We hope that even though the community can't visit our native plant nursery right now, they'll still take the opportunity to bring a few new plants home."
Native plants – those that occur naturally in a region in which they evolved – are the foundation of our natural ecosystems and help protect biodiversity. They provide food and vital habitats for native wildlife.
Landscaping choices have meaningful effects on birds and insects, as well as other plants and animals. Natural landscaping, also called native gardening, is the use of native plants, including trees, shrubs, groundcover, and grasses which are indigenous to the geographic area of the garden.
Tillamook Estuaries Partnership's plant sale features hardy native trees, shrubs, and forbs suited to survive in our Pacific Northwest landscape. Typically used in habitat restoration projects, the stock is adapted to the local climate and has well-developed root systems.
To bring you even more variety and specialty plants, TEP is partnering with Aldervale Native Plants – a local native plant business devoted to helping folks add Pacific NW native plants to their yard for the health and enjoyment of people and wildlife.
Perhaps you'd like to bring some share to your yard with a Vine maple (Acer circinatum) or Red-Osier Dogwood (Cornus sericea)? If you are looking for an evergreen groundcover for your garden, try Kinnickinick (Arctostaphylos uva-ursi) or Broadleaved stonecrop (Sedum spathufolium). Or maybe you'd like to attract more pollinators with Red Elderberry (Sambucus racemosa) or Yellow monkeyflower (Mimulus guttatus). There is something for everyone this year at the Bring Back the Natives Spring plant sale.
Online ordering will go live on Saturday May 8th at 12:00 pm (just in time for Mother's Day!) and close at 12:00 pm on Monday, May 17th. Customers can pick up their orders from 12:00 – 3:00 pm on Saturday May 22nd at TEP's Native Plant Nursery, 6820 Barrack Circle Drive, Tillamook. TEP Staff and volunteers will be on hand to load customer's cars. Visit the events page at www.tbnep.org for more information and to place your order!
Proceeds from the sale will benefit Tillamook Estuaries Partnership's Native Plant Nursery and habitat restoration projects throughout northwest Oregon. Supplies are limited and available on a first ordered, first served basis.