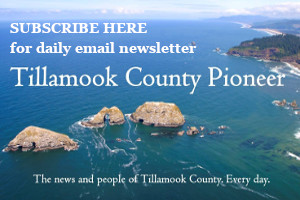 Editor's Note: Keep an eye out Tillamook County – Adventure Man is making his way south on Hwy. 101 today (May 3rd). FYI – He was spotted just north of Lake Lytle about Noon. If you see him, send us a photo (editor@tillamookcountypioneer.net) or post to our Facebook page. Let's show Adventure Man our Tillamook County hospitality and document his journey through our little piece of the world.
By Dan Haag
Not all superheroes are on the big screen. Pride of Britain winner, Jamie McDonald, is currently running across the United States on a solo run dressed as the superhero "Adventure Man," cape and all.
Why is he undertaking this? The 31-year-old McDonald, who is from Gloucester, UK, spent the first nine years of his life in and out of hospitals with syringomyelia, a rare spinal condition that causes a cyst to form within the spinal cord.
McDonald's trek across the US kicked off in April in Washington state and is his effort to raise money for children's charities and hospitals.
In all, he will run 230 marathons through over 15 states, beginning at the westernmost point of the Unites States and ending in the easternmost.
The Tillamook County Pioneer had a chance to sit down with McDonald to chat about his journey as it brought him through Manzanita.
Tillamook County Pioneer: Where did "Adventure Man" come from?
Jamie McDonald: A little kid, actually, who was sick and we helped. He ended up creating and designing this whole costume. I ended up running all the way across Canada dressed as the superhero "The Flash." At the end of it we received notice that the copyright issues really weren't great. So we got this kid to design this whole thing and now it's "Adventure Man" forever.
TCP: Tell us about the journey
JM: I started in Cape Alava (WA), the westernmost point of the US and will run 6,000 miles, or 230 marathons, all the way over to the easternmost point into the state of Maine.
TCP: Why are you doing this?
JM: I know! Who would do something so stupid? I spent most of my life as a kid in hospital with a rare condition, syringomyelia. I couldn't move my legs. The hospital gave me a lot of help and my mom was able to get me up and moving until my symptoms gradually disappeared, so I was really, really lucky. When I got older, I went to go buy a house, went to sign the papers and got this gut feeling that something was wrong. I pulled out of it and I thought about all the time I spent in hospital as a kid and thought "You know what? Maybe I'm now in a position where I can actually give back."
TCP: How did this all start?
JM: Years ago, I bought a bike I saw in the newspaper for 50 pounds, it was one of the worst bikes ever. I cycled around the world on it, 14,000 miles to finish a kid's hospital that had helped me. It's snowballed from there to me jumping on a static bike to get a world record of 12 days non-stop cycling. My bum was really sore! Then it was running 5,000 miles across Canada. All in all, its raised over a million dollars for kid's hospitals around the world.
TCP: What's your goal in America?
JM: I'm raising money for kid's hospitals in every state I run through. Our foundation, what we're doing is, whoever donates in a particular state, 50 percent of that donation goes to the main kid's hospital in their state. The donation stays local to them. The other 50 percent goes to support other sick kids around the world.
TCP: How are you feeling so far?
JM: I'm 21 days in and I'm fresh meat, I'm absolutely knackered. My body's useless because I'm just not strong enough yet! I'm heading south next to Lincoln City. I'm trying to take it day-by-day without thinking ahead because then I get a bit scared.
TCP: What do you think of the Oregon Coast so far?
JM: Just phenomenal! When I came in on 101, I was ranting as I was going up the hill over there: "who put this mountain here?" Then when I got to the top and saw the view, that was the "wow" moment.
(referring to Neah-Kah-Nie Mountain.)
You can keep up with McDonald's journey by visiting him on Facebook at https://www.facebook.com/jamiemcdonald.org/ or track his journey at https://www.jamiemcdonald.org/tracker.
Supporters to his efforts can donate here: http://www.superherofoundation.org/donate/