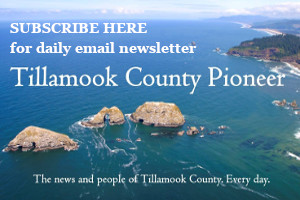 By Amy Schmid, Administrative Program Specialist, OSU Extension Service, Tillamook County
If you have had a chance to visit the Partners for Rural Innovation Building since its opening in January of 2017, you may have taken notice of the unique artwork in the hallway. The artwork is actually historical photographs from the Tillamook County Pioneer Museum's collections. This is yet one more partnership that proves that the building was aptly named.
Every six month the Museum changes out the photographs for a new set. Each set is a different theme. "Our first choice was to highlight the fishing industry in Tillamook County," explained Pioneer Museum Experience Developer Carla Albright. "And one of my favorite photos was of crooner Bing Crosby with a nice display of fish he had caught." The Museum staff is 99% certain the photo is of Crosby although there is no caption on the original photo. "But his love of salmon fishing was second only to his love of golf," said Albright.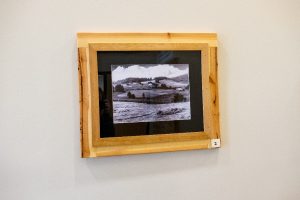 The second round of photographs featured some of the older farms in the county, including one of the Warren Vaughn farm. Currently on display are photos of the logging industry, with many of the logging crews being aided by teams of oxen. The frames themselves are quite a work of art as well. They were handmade by the Pioneer Museum's Gary Albright. There are also two large paintings from the Museum – one of the ocean by Breanna Moran and one of the forest by Helen Hill – have been on display at the west and east sides of the hallway of the building, respectively.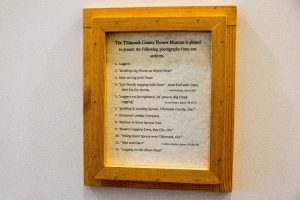 The Pioneer Museum has over 12,000 photographs to choose from and are already working on what will be displayed in July of this year. "But that topic will be a surprise," Albright said. Extension Staff have had fun brainstorming possible theme ideas. Make sure you stop by and check out the current photographs before their time is up and again when each new set is installed.

By Extension, Your Connection to the Programs, People, and Publications from OSU Extension Tillamook County
Seeking Answers?
Submit your questions to so we can write about what about what matters to you.
Join the conversation on Facebook or Twitter
Find us on the web.