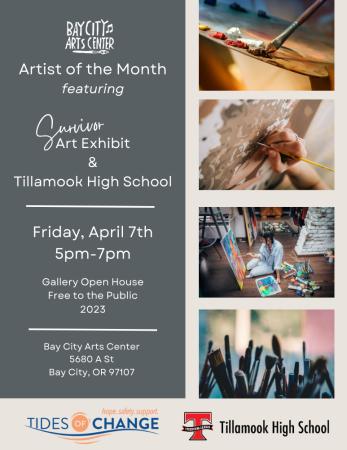 By Denise Porter, Neal Lemery, Teri Fladstol
A conversation about the benefits of collaborated learning for youth and adults.
This past summer, OSU Extension Service, Latimer Quilt & Textile Center and Art Accelerated came together to offer programming for youth throughout Tillamook County.
OSU Extension Service offers a framework for working with youth and families. Collaborating with these organizations allowed us to draw on each other's strengths and maximize resources that serve and engage the whole community. We were able to create a space where kids were engaged, stimulated and had a lot of fun. As we move forward, we will offer programming that will allow both youth and adults to explore their talents.
"Art is so important! It manifests in so many ways", proclaimed Denise Porter, whose daughters Robyn, 10 and Rose, 6 took advantage of classes through Latimer Quilt & Textile Center and Art Accelerated this past summer. "My creativity is with the written word and not centered through textiles or canvas. I was very excited that Latimer began youth classes because Robyn enjoys working with fabric and yarns; she paints too, and really loves putting colors together. Having the opportunity at Latimer was great – her creativity is being channeled. She is surrounded by instructors who love what they do and it give her access to the type of work she enjoys." Rose is at an age to enjoy working on art projects. Denise added, "The Art Accelerated instructors did a great job teaching class that were appropriate for her age and skill level. She really enjoyed herself."

[Art Accelerated – Cloverbud Art Class]
Because this program is within 4-H, the projects created have another benefit – being entered as a 4-H project at the Tillamook County Fair. The 4-H Year begins October 1, meaning a youth member can begin working on their 4-H projects over the wintertime knowing that the culmination of their hard work will be show cased at the County & State Fairs in August-September of the following year.
Access to affordable classes taught by some of the brightest artists and artisans in our county gives 4-H members the opportunity to explore a new subject, develop skills, display their work at the fair, participate one-on-one interview judging and record their experiences in their record books – just in time to begin again!

[Knitting @ Latimer Quilt & Textile Center]
OSU Extension Service serves as a bridge to these groups by connecting Latimer Quilt & Textile Center & Art Accelerated with our 4-H members and families. Everyone wins in this case and we learn that when adults and organizations work together, new possibilities appear, and what can result is much greater than what each organization could have done alone. We celebrate the creative energies of the kids, their willingness to try something new, and to explore the world outside of their comfort zone!
These organizations took a risk to do something new and dared to think outside of the box. That is what we are trying to teach our community and now, we have managed to teach ourselves these important life lessons: the world is a brighter, more exciting place when we work together and it is not only fun; it grows the possibilities of every person!
By Extension, Your Connection to the Programs, People, and Publications from OSU Extension Tillamook County
Seeking Answers?
Submit your questions to so we can write about what about what matters to you.
Join the conversation on Facebook or Twitter
Find us on the web.