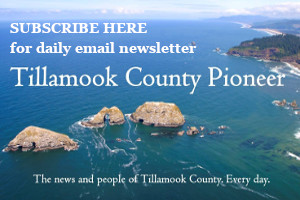 By Nancy Kershaw, Professor, Family & Community Health, OSU Extension Service, Tillamook County
Walking is safer and puts less stress on the body than most other forms of aerobic exercise–the kind that builds stamina and boosts cardiovascular fitness by increasing heart rate. Walking is an especially good choice for people who are older or less active (Altpeter, et al, 2009). Walking offers many benefits for your body and spirit. Besides being inexpensive, convenient and fun, walking can help to:
• Strengthen the heart, lungs, joints & bones
• Fight osteoporosis
• Burn calories & control weight
• Reduce stress, improve mood and boost energy
The current guidelines recommend at least 30 minutes of moderate intensity cardiovascular or aerobic exercise five times a week – that's only 150 minutes or 2½ hours of moderate intensity physical activity during an entire week. The good news is that the 2018 physical activity guidelines, to be released in late 2018, will recommend no minimum effective bout duration – which means even a few minutes at a time are beneficial and can be added up to reach your 2½ hours of moderate physical activity over the course of a week (Gunter, K., 2018).
Here's a tip – if walking 30 minutes at a time is too much or you can't find the time you could walk: 15 minutes twice a day, 10 minutes three times a day or even 5 minutes or less several times over the course of the day to count toward your physical activity time. Just remember the total needs to add up to 150 minutes of moderate intensity physical activity over the course of a week.
Low or moderate intensity exertion allows you to speak comfortably, without huffing and puffing or being out of breath. You should be able to carry on a conversation. If you can't carry on a conversation because you are short of breath or breathing too heavily, slow down.
Need more incentive to walk? Walk your dog. Studies show that dog owners tend to be more physically active than non-dog owners. (Cuttt, et al., 2007). Research shows that setting goals and writing them down (making a contract) is helpful (Altpeter, et al, 2009). When setting goals be specific:
• State when you will walk and be specific. For example will you walk before breakfast, during your lunch break or immediately after work?
• State how often you will walk. At first aim for three times a week, if you do more that's a bonus.
• Reward yourself for a job well done. Name your reward on your contract.
• Refer to the contract every day. Post the contract where you'll see it, such as on the fridge. The contract will help you stay focused and on track with your walking program.
Other tips for starting and maintaining a walking program:
• Research also shows that keeping records of your daily activity helps you make and maintain changes in your overall physical activity.
• Self-tests can be a great motivator to stick with a program because you can see progress. Self-tests are easy – measure the amount of time or distance you're able to walk, or take a physical measurement such as your heart rate. Do the self-test at the beginning of your program and at regular intervals as you become more active.
• Join a walking group to provide support and encouragement (Kouvenen, A., et al, 2012). Social support has been shown to help us make lasting increases in being physically active.
Tillamook County Years of Wellness (YOW) partners are teaming up for a healthier, happier Tillamook County. Being active and having positive social support are keys to lifelong health. Join one of the Step It Up! Survivors Tillamook walking groups that start the first week of April. These groups are part of a statewide effort to reduce the incidence and burden of cancer in Oregon. Tillamook YOW in partnership with OSHU's Oregon Community Cancer Research Collaborative and Knight Cancer Institute Community Partnership Program is offering FREE weekly walking groups. These groups are targeted at cancer survivors, their friends and family members and open to all Tillamook County residents (whether cancer survivor or just someone wanting to join a walking group). Groups will meet in north, central and south Tillamook County. For more information or to register, contact Kevin Clark, kclark@co.tillamook.or.us or call (503) 842-3900, ext. 4010. Funding for this project is provided in part by the OHSU Knight Cancer Institute Community Partner Program.
One of the groups will meet at the OSU Extension Office, 4506 Third Street in Tillamook on Mondays and Wednesdays, 9:30-10 am starting on April 2 and walk outside weather permitting with the option of indoor walking at the fairgrounds in case of inclement weather. Registration forms are available at the OSU Extension Office and can be completed in advance or plan to arrive a few minutes early on your first walking day to complete the registration. Other groups meet at the YMCA, Tillamook Junior High, NKN High School Walking Track in Rockaway Beach and at the Kiawanda Community Center in Pacific City.
Thank you to OHSU Knight Cancer Institute Community Partnership Program, Tillamook Regional Medical Center, The Rinehart Clinic, North Coast Recreation District, Neah-Kah-Nie High School, Tillamook County Community Health Centers, OSU Extension, Tillamook County Family YMCA, and the Kiawanda Community Center for your support!

Don't forget to take the survey about the By Extension. This survey will take less than five minutes to complete. Upon completing this survey, you will be invited to enter your email address in a drawing for a chance to win a $20 Amazon gift card. Complete the survey here.
By Extension, Your Connection to the Programs, People, and Publications from OSU Extension Tillamook County
Seeking Answers?
Submit your questions to so we can write about what about what matters to you.
Join the conversation on Facebook or Twitter
Find us on the web.
SOURCES: Altpeter, M., Callahan, L., Morse, M., Meier, A., Schoster, B., Buysse, K., Mielenz, T. and Goeppinger, J., Arthritis Foundation Walk with Ease Program, Leader's Guide, 2009.
Cutt, H., Giles-Corti, B., Knuiman, M. & Burke, V. (2007). Dog Ownership, Health and Physical Activity: A critical review of the literature. Health & Place, 13(1), 261-272. https://www.sciencedirect.com/science/article/pii/S1353829206000062
Gunter, K., OSU Extension Service Specialist Update March 2018 Spring Conference – Physical Activity & Health (2018). Highlights from the 2018 Physical Activity Guidelines Advisory Committee Scientific Report. https://health.gov/paguidelines/second-edition/report.aspx
Kouvonen A, De Vogli R, Stafford M, et al. Social support and the likelihood of maintaining and improving levels of physical activity: The Whitehall II study. European Journal of Public Health. 2012;22(4):514–8.