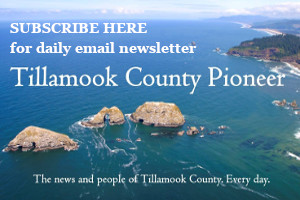 The Kiwanis Club of Tillamook and the Rotary Club of Tillamook support the Tillamook High School Charity Drive every year by holding a cake auction at their weekly meetings in February.
The Rotary Club of Tillamook held their auction at the Elks Club on Tuesday, February 15 at noon. They were supporting the Freshmen and Junior Class for this year's Charity Drive.
The Kiwanis Club of Tillamook held their auction at Tillamook Bay Community College on Wednesday, February 16 at noon. Kiwanis was supporting the
Sophomore and Senior Class this year.
Over 60 cakes, pies, and cookies were sold during the auctions and over $18,000 was raised between the two Clubs.
Both the Kiwanis and Rotary Clubs are proud to support our high school students as they learn about philanthropy and the pleasure of making life better for citizens in our community.
Thank you to all those who supported both auctions and once again it shows the generosity of people living in Tillamook County.