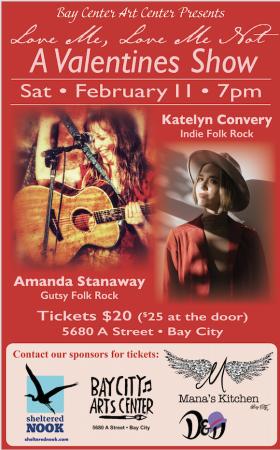 Let your heart speak out! Adventist Health Tillamook announces a call to artists for a non-juried art exhibition, Art for the Heart, Feb. 1–28, 2023, at North Coast Recreation District (NCRD) in Nehalem, Oregon, to raise awareness about heart health. An artists reception will be held on Sunday February 5th from 1 to 4 pm.
Artists of all ages on the Oregon coast can submit up to five entries. The submitted artwork will remain at NCRD throughout the entire month of February. All mediums may be entered and must be clearly labeled with the creative title, artist name and sale price.
No fees for creative submissions.
Digital work must be printed and wall-ready.
Hanging art must be wall-ready.
Free-standing art objects are also welcome but must be accompanied by a stand or holder to secure them.
Cash awards for first place are $500, second $250 and third $175 as well as a people's choice award. Special awards for submissions from artists of high school age or younger.
Artwork Submission Deadline
Sunday, January 29, 2023
Drop off your display-ready artwork from 10 a.m. to 3 p.m.
North Coast Recreation District
36155 9th St., Nehalem, OR 97131
Artwork will be available for purchase in advance of the Feb. 5 community celebration event and throughout the month through the NCRD office.*
Art for the Heart: A Community Celebration of the Heart and Artist Reception – Sun. Feb. 5th from 1 to 4 pm
Please join us for the artist reception featuring artwork for sale by local artists, live music and delicious, heart-healthy refreshments from Wanda's Café + Bakery. Everyone is welcome — all ages.
The show will be on display at the North Coast Recreation District (NCRD) gallery throughout February. You may purchase artwork in advance of the February 5 event through the NCRD office.* Art pieces will be marked as sold and may be taken home Monday, February 28 and Wednesday, March 1 during NCRD business hours.
Questions? McLainAL@ah.org
* Ten percent of proceeds from art sales will go to support fitness scholarships at NCRD to contribute to the heart health of our North County neighbors. Thank you for your support!