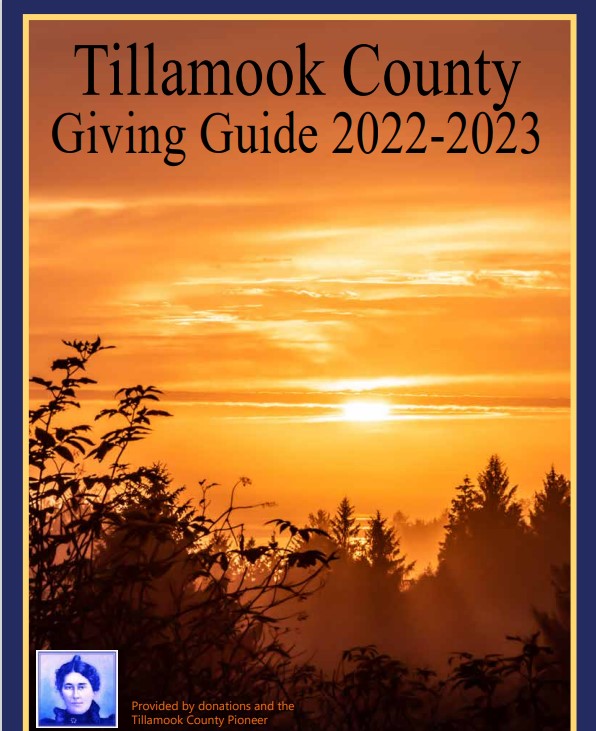 Rockaway Writers Rendezvous – EST. 2023
WHAT/WHERE/WHY
The Rockaway Roastery, at 2nd & Miller in Rockaway Beach) in conjunction with local published authors, are creating an annual educational fun event around all forms of the written word. Fiction to travel, journalism to poetry, music to technical writing and more.
There will be open mic performances, book vendor sales, and lots of authors with recent publications.
No matter your experience or discipline, there will be a little something for everyone. Come learn, research, connect, perform, and level up our craft!
Admission to the entire event is just $10 and that money will support our local non-profit that provides scholarships for writers.
Your ticket enters you into a raffle to win one of four beautiful gift baskets filled with products from local businesses, and additional raffle tickets may be purchased which will help support the scholarship fund.
Please RSVP!
No money is due now. At the event you'll receive one raffle ticket for every $10 tax-deductible contribution to the Neah Kah Nie High School Scholarship Fund.
Songwriting Workshop: 6 pm
We welcome Eric Sappington from Mercury Coast who will be leading a 45-minute workshop on the craft of songwriting, and this will flow directly into Open Mic performances featuring poetry, spoken word, readings, and other word-inspired performances.
Open Mic: 7 pm – 10 pm
High School + Adult, doors at 6 pm and at 7 pm. Open mic performances start featuring high school students followed by adults. Wrap at 10 pm.
Book Vending:
Authors will be available to meet and we will have a collection of local authors who will be representing their latest works.
Saturday APRIL 29th
8:00 am: Doors open at The Roastery and on Saturday we will be featuring the workshops as follows:
9 am: TRAVEL WORKSHOP with Scott Fisher
10:00 am: COPYRIGHT WORKSHOP with Neal Lemery
11:00 am: FICTION WORKSHOP with James Scott
12:00 – 1:30 pm: LUNCH BREAK
1:30 pm: CULINARY WRITING with Julie Bell
2:30 pm: JOURNALISM with Laura Swanson
3:30 pm: MARKETING (Keynote Speaker 90 min) with Kizzie Jones
5:00 pm: DINNER BREAK
6:30 pm: POETRY with David Pickering
7:30 – 9 pm: Open Mic performances!
Sunday APRIL 30th
8 am: Book vending and author meet & greet.
10 am: Raffle drawing!!!!
12 pm: We're done!
To learn more about the Workshops, Presenters and participating authors – go to https://www.rockawayroastery.com/rwr2023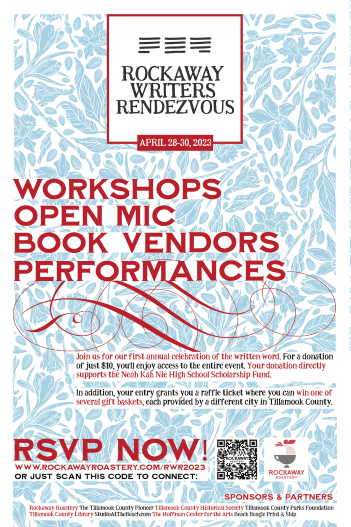 PARTNERS and SPONSORS
Rockaway Roastery
The Tillamook County Pioneer
Tillamook County Historical Society
Tillamook County Parks Foundation
Tillamook County Library
StudioAtTheBeach.com
The Hoffman Center for the Arts
Beach Beagle Print and Ship