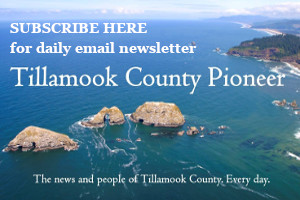 By Mallory Gruben, Tillamook Chamber
In its first-ever posthumous dedication of the role, the 65th annual June Dairy Parade will honor Calvin Christensen as parade grand marshal.
"Calvin spent his life dairying in Tillamook. He loved this community and the industry we celebrate every June," said Justin Aufdermauer, executive director of the Tillamook Chamber, which organizes the June Dairy Parade. "Usually we get to honor a grand marshal who is still with us. This year, we get to honor a legacy."
The grand marshal position recognizes a local individual associated with the dairy industry. In selecting a grand marshal, extra consideration for the is given for individuals who demonstrate community involvement, leadership and volunteerism.
Aufdermauer said Christensen was selected for grand marshal because he was "synonymous with dairy and community." Although he died unexpectedly in March, Christensen left a lasting mark on the Tillamook community.
A lifelong Tillamook resident and local farmer, Christensen ran two dairies and a custom farming business, served on the Tillamook County Creamery Association board of directors and volunteered to help other dairymen whenever he could.
His wife, Jody, said Christensen knew from an early age that he wanted to be a dairyman. He was raised on Shirhar Farms, his family's business named after his parents, Shirley and Harvey. His excitement for farming was rivaled only by his father.
"His dad absolutely loved farming, but Calvin surpassed his dad," Jody said. "He just never wanted to do anything else. He was so tickled to do what he loved to do every day."
Christensen started working the family farm right out of high school. He eventually took over ownership of it and raised his four sons on the farm, too.
As his sons became more focused on custom farming and equipment work, Christensen shifted the business to a custom farm that made and hauled farm products, including feed, hay bales and manure. He kept heifers but he missed his milk cows, Jody said. He returned to dairy farming full-time in 2014.
Shannon Lourenzo, TCCA board member and Christensen's close friend, joked that other Tillamook farmers thought Christensen was crazy for not only getting back into the industry in his early 60s, but also keeping the custom farming business running in full force. But dairy was what Christensen loved.
"He was all excited to get to milking cows again," Lourenzo said. "He was like a kid in the candy shop when he got back in the dairy business."
Around that same time, Christensen began what became a six-year run on the TCCA board of directors. Serving on the Creamery board was one of his favorite experiences, Jody said.
"He was really honored to be able to hash over ideas as the industry was changing and adding more technology. He'd always been hands-on on the farm, but he liked experiencing the marketing and distribution side of the industry, too," Jody said. "Any time we traveled, he was always excited to go into stores and see if they carried Tillamook products."
Christensen shared his love and knowledge of dairying with anyone who asked. He watched for newcomers to the industry and was quick to offer guidance or a helping hand.
"He was just the kindest man," said his daughter-in-law, Ashley Christensen. "He would let anyone borrow farm equipment or anything like that. Anyone who was new to the Tillamook area that had a dairy of any sort, he'd always reach out and see whatever he could to help."
When Lourenzo first moved to Tillamook in 2000, Christensen helped answer his questions about where to find good feed or how to get equipment fixed. The younger dairyman said he can't imagine what his transition would have looked like without Christensen's help.
"Calvin was probably the first person I met when I moved here. I was young, and I had no idea what was going on in this area. He really helped me out, and we became really good friends."
Christensen had a knack for balancing work and play. He always prioritized family time, never missing one of his son's football games while they were growing up — even in the busy summer season at the dairy. Later in life, he loved spending time with his grandchildren, hunting with friends or playing pinochle with his family.
The grand marshal leads the line-up for the beloved community event. Christensen's family will drive his chopper in the parade in his stead.
"Our family has been blessed with the community's support, from the funeral to the outpouring of support at the memorial convoy and now this," Jody said. "Calvin had been involved in the June Dairy Parade off and on through his whole life. I can't help but think that he would just love this. He would be speechless with honor."