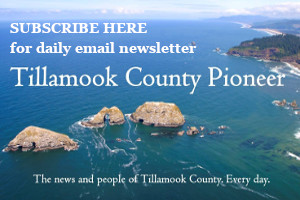 On March 5, 2023, at approximately 1:44 pm, Cannon Beach Fire District was dispatched to Indian Beach at Ecola State Park for a report of two surfers in the water separated from their boards.
Upon arrival, Incident Command established that the two victims were located in the surfer deposit, sitting safely on top of a rock, unable to get back to shore due to the strang rip current.
A Cannon Beach Fire rescue swimmer made entry into the water to contact the victims and assess their conditions and comfort them.
Seaside Fire & Rescue arrived on scene and launched their jet ski while Nehalem Bay Fire & Rescue launched a Cannon Beach Fire jet ski as back-up. Nehalem Bay also brought their drone operator but were unable to launch due to Coast Guard already on scene.
Coast Guard arrived and hoisted the two victims into their helicopter and landed at Ecola State Park where the victims were assessed by Cannon Beach Fire, Nehalem Bay Fire, and Medix Ambulance personnel. The two victims were uninjured and declined any medical treatment. The entire rescue operation took roughly an hour to complete, and included 18 fire personnel from Cannon Beach, Seaside, and Nehalem.
Cannon Beach Fire would like to remind all visitors to pay attention to the tides and rip currents and familiarize yourself where rip currents are located and what to do if you're caught in one. You can check the daily tide table on our website at www.cbfire.com or for more beach safety tips at www.cbfire.com/beach-safety-tips.
Cannon Beach Fire District would like to thank Cannon Beach Police, Seaside Fire & Rescue, Nehalem Bay Fire & Rescue, Coast Guard and MEDIX Ambulance for their quick response and assistance in this rescue.