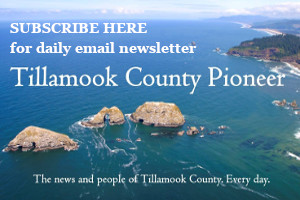 On Saturday September 2, 2023 at 12:18 while patrolling north on the beach, Cannon Beach Lifeguards witnessed two children and four adults being swept out by a rip current at Chapman Point.
A Cannon Beach Lifeguard quickly made entry, while another lifeguard requested that Cannon Beach RFPD and Seaside Fire & Rescue Surf Rescue Teams be toned out. Three additional Cannon Beach Lifeguards entered the water to assist with locating and stabilizing the victims. Upon the arrival of Cannon Beach Fire, a USCG helicopter was requested to the scene, as well two jet skis were deployed.
Thanks to the strong work by the Lifeguards, jet skis, as well as three local surfers, all six victims were safely rescued and brought back to shore. All victims and rescuers were evaluated by MEDIX, and one lifeguard was treated for a minor injury.
If you plan to visit the beach, please be very careful around the water. Depending on surf conditions, the rescuers may not be able to be deployed for safety reasons which will delay any rescue attempts; very few Oregon beaches have lifeguards.
Remember:
– Do Not turn your back to waves.
– Do Not play on, or near logs that are in the water.
– Keep and eye on the rising tide – know the tides!
– Always wear a wetsuit, or USCG approved (properly fitted) life vest when in or near the water.
– Do Not go deeper than you thighs.
– Learn how to identify rip tides.
Here's a recent video from Rockaway Beach Fire & Rescue Chief Todd Hesse: