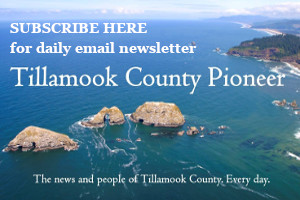 Twenty-five years ago Tillamook Bay was designated as a "Bay of National Significance" by the Environmental Protection Agency. This designation secured Tillamook Bay's spot in the National Estuaries Program, which works to protect and restore the water quality and ecological integrity of 28 estuaries located along the Atlantic, Gulf and Pacific Coasts and Puerto Rico.
To celebrate this milestone with the community and the work being done to develop and implement science-based, community-supported management plans for all of Tillamook County's estuaries and watersheds, the Tillamook Estuaries Partnership (TEP) invites the community to its Celebrate the Bounty on the Bay event at Pacific Restaurant on Feb. 23.
"This is a great chance to come meet the TEP staff, learn about water quality trends within our five estuaries, and the habitat restoration work that's being done that's beneficial to our fish and supports healthier fisheries," said Chris Knutsen, Board President for TEP. "All while enjoying an extravagant seafood feast prepared by some of the best chefs in the region."
Knutsen noted that traditionally TEP has hosted a premier fishing tournament that also served as their annual fundraiser, but this year the Board of Directors decided to switch things up a bit.
"Bounty on the Bay has traditionally been a fishing tournament," he explained, "but with Chinook fisheries being at a lower abundance level for the next few years, we felt it was a good opportunity to expand the event and diversify our audience a bit more."
Knutsen said they still hope that anglers and outdoor enthusiasts will join them on Feb. 23, as well as anyone and everyone who supports the idea of healthy watersheds.
"A lot of people who live in Tillamook County or visit our area don't realize all the work TEP is doing on their behalf and for fish and wildlife resources," Knutsen said.
Participants will be treated to a fabulous happy hour at Pacific Restaurant with fun trivia, prizes, a seafood dinner and a silent auction full of action-packed adventures.
"These are experiential-type opportunities that folks can bid on and help support TEP, and in turn allows them to get outside and see some of the area of Tillamook County that we serve and have an adventure while they're out there," Knutsen noted.
It's also a chance for TEP to share their 2018 Year in Review and encourage the community to get involved with the protection and conservation of Tillamook's five watersheds.
Tickets to the seafood feast and silent auction are only $60 for individuals or $330 for a table of six or $400 for a table of eight. You can purchase tickets on Eventbrite.com or at TEP's website: www.tbnep.org. Ticket prices include two beer or wine drink tickets per person. Other drinks will be available for purchase at the bar. Limited tickets are available, and those interested are encouraged to purchase their tickets in advance.
If you'd prefer to not indulge in the seafood feast, the community is welcome to attend the 2018 Year in Review from 4 p.m. – 5 p.m. that night free of charge. Find a full schedule for the evening on the Tillamook Estuaries Partnership's Facebook page.
The evening is made possible thanks to generous sponsors including: Visit Tillamook Coast; The Headlands Coastal Lodge & Spa; Wood & Moore Construction Inc.; Pacific Byway Development Company; Pacific Restaurant; and Pacific Seafood.
If you are interested in becoming a sponsor for Celebrate the Bounty on the Bay, or would like to help support TEP's work with a donation to the silent auction, please contact Kristi Foster at 503-322-2222 or email kristi@tbnep.org.