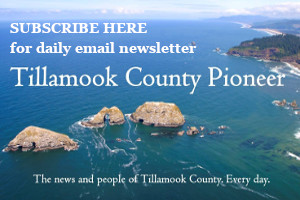 By Sayde Moser-Walker
It's the quintessential holiday performance. Just hearing a few familiar melodies from Tchaikovsky's The Nutcracker tends to conjure up images of dancing sugar plum fairies, heroic nutcrackers, menacing mice, and dazzling dance numbers that bring the magic of Christmas to life.
"For so many of us, it's not quite Christmas until you've at least listened to the musical score of The Nutcracker," said Adam Schwend, Director of Cultural Events for the Monday Musical Club of Tillamook."It's a tradition, beloved by many of all ages."
And this year you can enjoy a special performance of The Nutcracker by the Eugene Ballet at Tillamook High School, thanks to the Monday Musical Club of Tillamook.
"We don't always do a Christmas show," noted Schwend. "However, a lot of folks are particularly interested in music and the arts around Christmas time, so this was a good opportunity to take one of the most adored Christmas shows in history and bring it professionally to Tillamook."
The performance will also feature aspiring dancers from both Tillamook School of Dance and Oregon Coast Dance Center.
"I don't know that it would be Christmas without doing The Nutcracker," said Lisa Greiner with Oregon Coast Dance Center. "For our studio, it really gets everybody in the Christmas spirit and for so many it has become a tradition to watch it performed every year."
After auditioning with the Eugene Ballet, 30 dancers, ages 5 – 15, were selected based on their age, skill, and choreography. These students have been working with Griener since the beginning of November to master the choreography and staging.
"We have several students who danced with the Eugene Ballet a few years ago when they performed Cinderella," Greiner said. "And then we have a lot of the younger kids, particularly the five and six year olds, who are very excited to dance on stage with professional ballerinas."
Her students will perform a variety of roles with the Eugene Ballet, such as party kids during the opening scene, baby mice, angels who dance with the Sugar Plum Fairy, and Bon Bons inside the Kingdom of Sweets.
"Many of them have roles that are very involved, and will be on stage for as much as half an hour," Greiner said.
"Part of our mission as Monday Musical Club is to encourage educational components in each performance that we bring to Tillamook," Schwend added. "This gives our local dance talent the opportunity to work with and learn from professional dancers."
Greiner and her students have been performing The Nutcracker every year for the past 11 years, and will have their own performance on Dec. 15 and 16 – the weekend prior to The Eugene Ballet performance.
"It will be a Nutcracker extravaganza weekend," Greiner joked.


The Eugene Ballet performance of The Nutcracker begins at 7 p.m. at Tillamook High School on Dec.18. Tickets are available for $25 at www.mondaymusicalclub.com or at TLC Federal Credit Union and the Tillamook Area Chamber of Commerce. Tickets are also available at the door for $30. Students aged 18 and under are free.
Also on the roster this year for the Monday Musical Club of Tillamook performances are The Queen's Cartoonists, a jazz band that specializes in cartoon music, performing on Jan. 21, 2018; and Six Guitars, a single performing with six different guitar-playing characters, on April 30. Season tickets are available.
For more information on the Monday Musical Club of Tillamook, or to become a sponsor, contact Adam Schwend at (503) 457-8865 or apschwend@gmail.com.