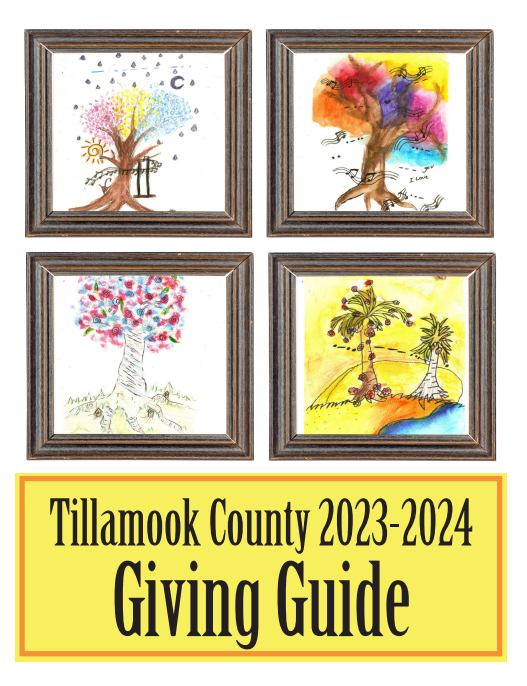 By Robin Swain
The City of Rockaway Beach is excited to "Celebrate Together Again" this 4th Of July.   City Councilor Penny Cheek tells us, "It's all back and then some! The city has hired an event planner, Laura Schmidt, to coordinate this year's celebration. Laura brings to the table years of experience in event planning with fun, fresh ideas. We are all very excited."
Laura Schmidt has been in the Event Industry for 15 years. She managed events at McMenamins and Widmer Brothers Brewing, as well as worked for Hilton Brands. Laura moved to the beach in 2019 and quickly realized the need for a local event planner. With the COVID shut down, people still wanted to celebrate special occasions. This inspired Laura to start a Celebration Display business.
"When I moved here, it did not take long to see that there was a real need for an event planner, from community events to weddings and other special occasions.  COVID pushed me to get creative and inspired me to start my Celebration Display business. People needed to be able to celebrate the milestones in their lives despite the lockdown. As the shutdown restrictions eased, my business evolved into event planning. I was not planning on event rental of chairs and tables, but there was a need and plenty of requests, so I expanded my business once again."
Ms. Schmidt worked for the City of Garibaldi in 2021 to plan and coordinate Garibaldi Days. It was a great success. This year, she has been contracted by the City of Rockaway Beach to take the helm of their 4th of July parade and celebration.
Ms. Schmidt continued, "I'm excited to be a part of Rockaway Beach's 4th of July Celebration. After two years of shutdown, being able to help bring back such long-standing traditions such as the Parade, Lions Fun Day for the kids and the Firecracker Weiner Nationals, wiener dog races and adding the Porch Parade, we will truly be able to "Celebrate Together Again."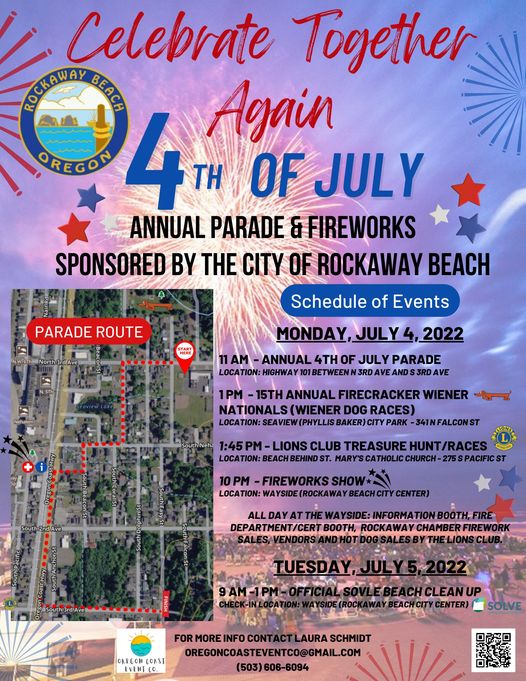 *We still need more volunteers for 4th of July. Prior to the weekend we need people to hang bunting and decorations downtown. Day of 4th, we will need 40 volunteers. Everyone is welcome to be added to the roster, from Rockaway Beach and beyond! Please add your name to the Volunteer Roster by sending an email to rbvolunteers1@gmail.com
*Parade applications must be in by June 28th.  Check in at the parade grounds will be between 8am and 10am. (participants will be contacted with their check in time), The parade starts at 11am.  www.tinyurl.com/2022paradeapp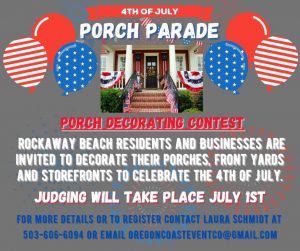 *This will be the first year for the Porch Parade.  Entries must be submitted by noon on July 1st. Judging will take place the same day. 1st, 2nd and 3rd place will be awarded to homes and 1st place to a business. On July 4th, visitors will vote for the winner of the Visitors Choice award.  www.tinyurl.com/RBPorchParade2022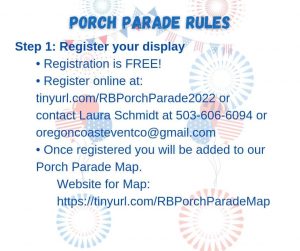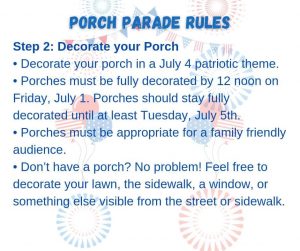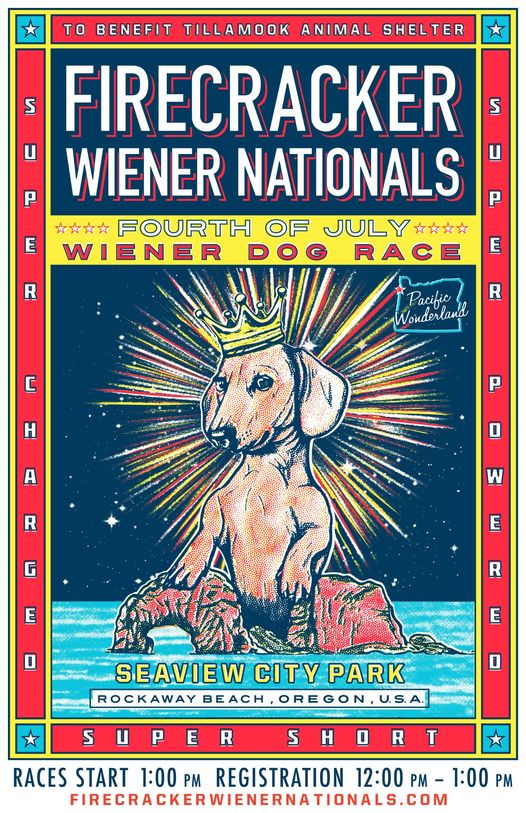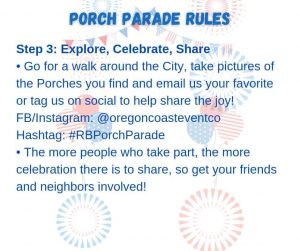 *Firecracker Wiener Nationals wiener dog races, will be held at Phyllis Baker City Park, 341 Falcon St, Rockaway Beach, OR. 12pm to 1pm, will be registration for the races. Races start at 1pm. Bring your own chairs.
*Lion's Club Fun Day of activities for the kids will be on the beach in front of St. Mary's by the Sea, 275 S Pacific St, Rockaway Beach, OR. The fun starts at 2pm!
* Grand Finale, The City's incredible Fireworks display at 10pm.
*July 5th will be SOLVE beach cleanup. We will have 7 miles of beach to clean up!
https://www.solveoregon.org/opportunity/a0C8W00000V9jLeUAJ/post-4th-of-july-beach-cleanup-in-rockaway-beach