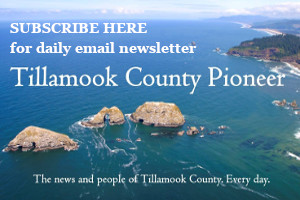 By Michelle Jenck, Adventist Health Director of Community Well-Being
In 2014, Bill Baertlein, local accountant and civic leader, began floating an idea to do something fun to get people moving in a healthier direction. It didn't take long for that simple concept to become a county-wide initiative, now known as Tillamook County Wellness (TCW). As Bill Baertlein ends his service as County Commissioner, we celebrate how he has helped Tillamook County become a healthier place to live, work, and play.
Bill launched the 2016 Year of Wellness with a rallying cry of "YOW!" and an impressive display of hula-hooping. He even challenged other County Commissioners in the state to follow suit; something many of them did but with a bit less flare. During that first year, 900 people participated in the team based "YOW Challenge" to make small changes to their daily health habits. Suddenly eating a few more vegetables or walking a few more minutes each day wasn't work but something fun we could all do together. That was, and still is, Bill's vision, who always said, "It has to be fun! If it becomes a fun-sucker, no one will want to do it." And, boy was he right. Bill's leadership and commitment to a positive and innovative approach to improving population health make him the Wow of YOW.
Tillamook County is known for being a tight-knit community, where people and organizations work together to get things done. YOW presented a purpose-driven opportunity to work together to tackle the big challenge of chronic disease, especially type 2 diabetes. Thanks to strong political will and the financial backbone of Tillamook County Community Health Center (no county tax funding supports this work), Tillamook County Wellness has exceeded everyone's expectations. As of 2020, Tillamook County is ranked 10th healthiest county in Oregon, a steep rise from 26th place in 2015.
The TCW framework is designed to not only help individuals with their daily choices but, most importantly, to serve as a hub for collaborative solutions that help make the healthier choices the easier choices for everyone. By pooling resources and working together strategically to strengthen existing work, we are building vital relationships and a shared understanding of what it takes to help all people thrive. Some examples include:
Tobacco-free spaces
Community and workplace-based health screenings
Mobile health and dental care
Web-based platform for community resource referrals – coming soon!
Detailed, web-based maps of all county trails and outdoor recreation facilities – coming soon!
Volunteer led walking groups
Workplace wellness activities
Food box deliveries
Lifestyle coaching through National Diabetes Prevention Program (DPP)
Information hub for getting connected to fitness, cooking, gardening, volunteering and more at www.tillamookcountywellness.org
This work only works because of the commitment and support of leaders like Bill Baertlein. As he steps down, he passes the baton to Mary Faith Bell, who will be the new Commissioner liaison for Tillamook County Wellness. We welcome Commissioner Bell and are excited to bring her experience and passions to this work.
As we enter a new year, we hope you will consider ways you can support your own health as well as that of your family, friends and co-workers. Taking small steps that are easy and fun (and definitely not fun-sucking!) are the key to better well-being. For more local health and wellness information, follow Tillamook County Wellness on Facebook, Instagram and Twitter.
Tillamook County Wellness relies on community involvement. If you are interested in donating your time, treasure or talents, please contact us at info@tillamookcountywellness.org or (503)815-2285.



Tillamook County Wellness is a program of Tillamook County Public Health. Through a partnership agreement, coordination of Tillamook County Wellness is funded by Adventist Health Tillamook.