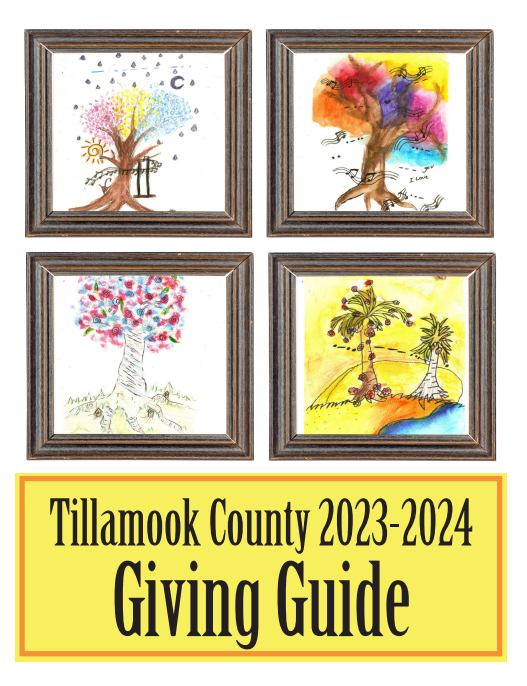 Tillamook County Sheriff's Office was in attendance yesterday October 9th as South County celebrated the life of retired firefighter and local commercial dory fisherman, Craig Wenrick, who died suddenly due to a dissecting aortic aneurysm on September 26, 2021.
Craig was well known in the Pacific City area and beyond and was remembered as an amazing husband, father, friend, colleague, mentor and hero by the more than 400 people in attendance at Nestucca's K-8 School.
As a commercial fisherman for more than 20 years, and an official for the Doryman's Association, Craig was well-known and loved by all of the TCSO Marine Deputies, Oregon State Police Fish and Wildlife Troopers and Oregon State Park Beach Rangers that had the pleasure of interacting with Craig while working the beach at Cape Kiwanda.
Craig retired in 2004 after 25 years with Tualatin Valley Fire-Rescue (TVFR) as a Firefighter, Engineer and Paramedic and began commercial fishing full-time. Fire personnel and apparatus from TVFR and Nestucca Fire-Rescue were present to honor their fallen brother.
Craig is survived by his wife of 35 years, Susie Wenrick, and sons Dane, Derek, and Keenan of Pacific City, daughter Kirsten and husband John Malcom of Bay City, and grandchildren Maicee, Maloree, Jacob and Lainey.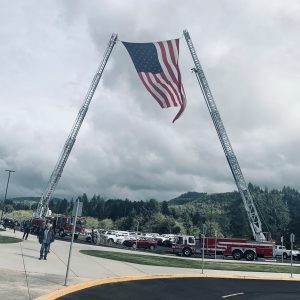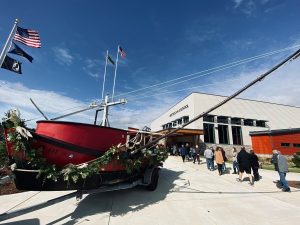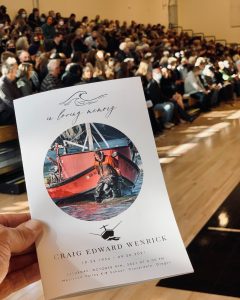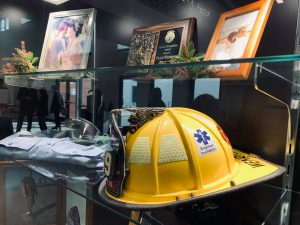 (PHOTOS BY TILLAMOOK COUNTY SHERIFF'S OFFICE)
Craig Edward Wenrick was born Oct. 22, 1954 to Clyde and Corinne Wenrick in Oregon City, Ore. He grew up in West Linn, and graduated from West Linn High School in 1972. In 1979, he was hired at Tualatin Valley Fire and Rescue as a firefighter/paramedic. He married his wife Susie on September 19, 1986 and went on to have 4 children. The small towns of Pacific City and Woods were his homes away from home his whole childhood and where he decided to raise his family and start his fish company, Sea Q Fish. He retired from TVFR as a firefighter/paramedic/engineer in 2004 to be able to spend more time at home with his family in Pacific City and run his fishing vessel, Sea Q.
Craig's hobbies and favorite pastimes were fishing and vacationing with family. He loved Paulina Lake and took his family there every year. He also loved and was skilled at auto body/mechanic work. He was the Co-chair of Dorymen's Association in Pacific City and part of the International Association of Fire Fighters. Craig passed away suddenly on 9/26/21 due to a dissecting aortic aneurysm.
Craig is survived by his wife of 35 years, Susie Wenrick.
His sons – Dane Edward Wenrick, Derek Duvall Wenrick, and Keenan Michael Wenrick of Pacific City, Oregon. Daughter – Kirsten and husband John Malcom of Bay City, Oregon Grandchildren – Maicee, Maloree, Jacob and Lainey Malcom of Bay City, Oregon.
A Celebration of Life was held Oct. 9, 2021 at the Nestucca Valley Elementary School.
Family is requesting any contributions be made in donation towards the Dorymen's Association or the South Tillamook County Food Pantry.