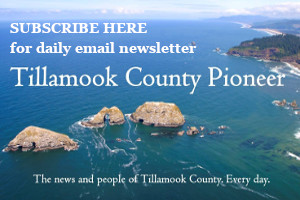 Robin Watts, RN, has spent the entirety of her career as a registered nurse in Public Health. She has been preparing and training for the incidence of a global pandemic and when COVID-19 first occurred, Robin returned to Public Health from her retirement to dedicate her leadership and skills to Tillamook County.
Robin chose to get vaccinated to protect her loved ones. "For those unsure, talk with your health care provider, and use reliable research to make an informed decision," Robin shares.
Join us in sharing Robin's story, and share your own COVID-19 vaccine experience by using
#choosetogetvaccinated
and send your photo and story to editor@tillamookcountypioneer.net.
Learn more about COVID-19 vaccines and book an appointment online at
http://tillamookchc.org.
While appointments are preferred, walk-ins are welcome for our Pfizer Clinic 9:00 am – 4:00 pm on 5/18/21 and Moderna Clinic 8:30 am – 11:30 am on 5/19/21 at Tillamook County Fairgrounds.
Governor Kate Brown
released a statement on May 13th indicating that Oregon would follow the new
CDC
guidance for fully vaccinated people.
• The guidance recommends that fully vaccinated people no longer need to wear a mask or physically distance except when required by federal, state, local, tribal, or territorial laws, rules, and regulations, including local business and workplace guidance.
• Schools, Hospitals, Health care clinics, Correctional facilities, Long-term care facilities and when using public transportation are all exceptions to the new guidance as well.
• Oregon Health Authority will be updating guidance for employers; however, it is not required that businesses adopt new masking and physical distancing policies.
It is your choice on how to protect yourself and others from COVID-19:
• Choose to get vaccinated,
• Or, continue wearing a mask and following physical distancing requirements.
We recommend choosing to get vaccinated.  There are appointments available, including for children 12-15 for the Pfizer vaccine.  Go to this link for locations, vaccine type and to signup today –
https://app.blockitnow.com/consumer/covid-care
This new CDC guidance makes clear that vaccines are the best tool to protect yourself and everyone around you.