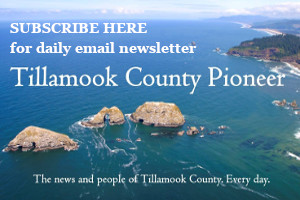 By Police Chief Terry Wright, City of Tillamook
The next two weeks are going to see a lot of night work in the ODOT construction zone.
The initial schedule is as follows:
Thursday, June 14th, from 7 PM until done, the area from the new bridge moving north will get the first layer of asphalt on the west southbound side. There should be limited or no flagging or traffic issues during this period. There will be slight change to the southbound lane starting at 6 PM so please be aware when driving through this area. There will be a lot of truck traffic with the asphalt being delivered.
Next week, starting June 18th there will be night work in the project area Monday through Thursday, setting up at 6 PM and starting by 7 PM each of these nights. There will be detours, lane closures and traffic delays. There will be flagging each night and law enforcement presence to protect everyone in the construction areas.
Monday night, June 18th, there is going to be paving on North Main between the new bridge and First Street. There will be detours set up. Depending on where the paving equipment is, you may be detoured onto Front Street and then west or south. In addition, 1st Street will be closed starting at 7 PM, from Madrona Avenue to Pacific. Madrona will be one way from 1st Street to 3rd Street. Detour for 1st Street will be Madrona to 4th then 4th to Pacific or Main.
Tuesday Night, June 19th, there will be grinding and paving on the north side of the bridge on North Main. This will be the final asphalt layer and north of the bridge will then be done other than sidewalk work. No, really. There will also be paving on 1st Street. There may be flagging and detours again depending on what section.
Wednesday Night, June 20th, the plan is to top lift and be done with Front Street and everything north of Pacific on North Main, both northbound and southbound. There will be detour if needed otherwise just flagging and one lane traffic.
We will also be out setting up all the signs and detour resource for the parade on Saturday so please be extra careful driving through downtown this day.
Thursday Night, June 21st, 1st Street from Madrona to Main will be closed again for final paving and any other work in the area. The same detour as Monday will occur.
So please be aware that next week driving through downtown, Monday through Thursday starting at 6 PM is going to be delayed with detours. Please plan ahead and if possible, avoid this area. If you cannot, please start your travel early so you will not be stressed as much through the delay areas.
OK, here is a test. Have you ever heard of sticky stomps? No it is not a musical group or a type of candy as I guessed. They are the temporary little lane markers, usually yellow, about 4 inches by 4 inches, that they stomp onto new asphalt to mark out lanes. Because they cannot paint on new asphalt for 2 weeks, they stomp these things down. They will then come back in 2 weeks and put down new paint to mark lanes etc. This will be great when they are done. In the mean time we will have sticky stomps so you will need to be aware and please focus for the next 3 weeks until the new paint is put down.
Thank you for all your patience. I know it does not seem like it sometimes but the project is almost done. This is a huge part of getting to the end. The last major section is Main Street from 1st to 4th Streets. Once the paving is done next week, almost all resources will be concentrating on Main Street.