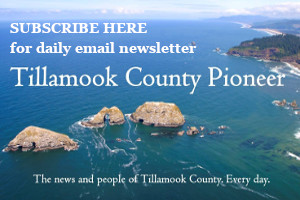 Story, Photos & Video by Don Backman
"Tillamook has celebrated being a Tree City USA for 35 years and counting," Tillamook City Manager Nathan George announced to the small assembly braving the rain showers. "The city encourages all citizens to celebrate arbor day." Cities and communities designate Arbor day at different time. The state Forester proclaimed April, 2023 as Arbor Month, Tillamook followed by proclaiming April 28th as Arbor Day.
Planting a tree is an annual tradition. The City of Tillamook has been planting a tree in honor of the tree city USA designation annually since at least 1988. "The city supports the idea of right tree, right place," George told the assembled group for the annual Arbor Day tree planning in Tillamook. ".… So we can minimize conflicts while keeping our city green and beautiful for years to come."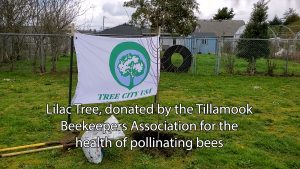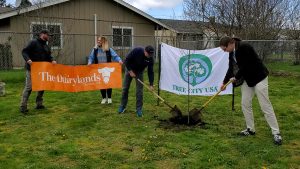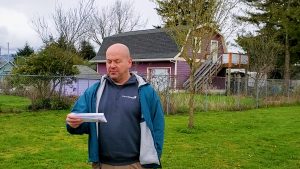 "We want to thank the Tillamook Beekeepers Association for their donation," George added. The Tillamook Beekeepers Association has been donating bee friendly trees to the city for many years. He also took the time to acknowledge the following city personnel for their work in putting on the event. Ryan Miller, City Arborist, Megan Kjenslee, Administrative Assistant, Public Works Director Shawn Burge, AJ Harmon, Water Treatment Supervisor, Tommy O'Donnell, City Planner, and Kody Dalton.
The brief ceremony, conducted between April rain showers, took place at Coatsville Park. The Lilac tree was planted in the northwest corner. Lilac was chosen by the Tillamook Beekeepers Association for its bee friendly nature. A ceremonial scoop of dirt was added to the hole around the roots of the tree, and the ceremony was over as the group dispersed before the brief dry period between rain squalls was over.
To find out more about bee-friendly plantings and "the right tree, in the right place", contact local Master Gardeners – https://tillamookmastergardeners.com/
In honor of Arbor Month, here's a story from Don Backman from a couple years ago … https://www.tillamookcountypioneer.net/outback-with-backman-earth-day-edition-2021-a-visit-with-big-trees/