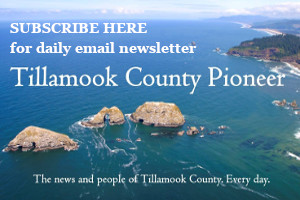 EDITOR'S NOTE:  With Spring Break and a steady stream of visitors, the Pioneer has been advocating for beach and trail safety programs for a decade.  Here are some great tips and the best advice from the people that are rescuing those that don't heed the signs, follow the advice or don't think it applies to them.  Enjoy the wonderful, amazing North Oregon Coast outdoor adventures, but please read the signs and please respect the fences, barriers and recreate safely, so you can come back to enjoy the coast again and again. And these folks don't have to risk their lives to save yours … bring your common sense and keep safety in mind. Thank you to our first responders!
By Robin Swain
Videographer: Don Backman
Tillamook County offers a diversity of outdoor recreation — Rivers, Bays, Lakes, Beaches, Hiking Trails and so much more. The excitement of getting away and enjoying the great outdoors can lead to forgetting the simplest rule, ALWAYS BE AWARE & PREPARED! The number one rule is to always let someone know where you will be, and your estimated time to complete your adventure.  Then check-in with them to let them know you are done and ok. 
Tides affect all our waterways, even the lakes. KNOW THE TIDES. The current of outgoing tides in the bays of Tillamook County are swift and strong and can easily take you out to sea. Winter and spring river flow is also swift due to the volume of rain and snowmelt. For water activities, always wear a well-fitting, Coast Guard approved, Personal Floatation Device, (PFD).  
Hypothermia, whether you are boating, kayaking, hiking or walking on the beach, can happen quickly. Wear appropriate clothes and footwear for the activity, dress in layers. The water temperatures are cold year-round here. We are still in Rogue wave and storm surge season. It is a good idea to have children wearing PFD even when you are beachcombing.
STAY OFF THE LOGS. It only takes about an inch of water to move a massive log. You do not want to roll with one of those. 
Kayaking has picked up in popularity. There is more to it than just buying a kayak and heading out. It is highly recommended that you kayak with a qualified guide to learn about the waterways in Tillamook County. Especially since we have such strong tidal influences. Kayak Tillamook County is happy to answer any questions you might have. 
If an area has fencing and signage that says, DO NOT GO BEYOND THIS POINT, DANGER! It means just that there are noexceptions. Turn around and go back. Stay on designated, marked trails.  
We are glad you are here enjoying all we have to offer in Tillamook County, we want this to be a happy experience loaded with awesome memories for you, your family and your friends. Make it happen by being safe in your outdoor adventures. 
Please watch this video from the Fire & Rescue Depatments throughout Tillamook County for safety information.  
We would like to give a big thank you to: Nehalem Bay Fire & Rescue, Garibaldi Fire & Rescue, Rockaway Beach Fire & Rescue, Netarts-Oceanside Fire & Rescue, Bay City Fire & Rescue, Kayak Tillamook & Josh Uitof, Mary McGinnis & Sandy Johnson, Nestucca Valey Fire & Rescue, Oregon Parks and Recreation Department and Tillamook Fire & Rescue