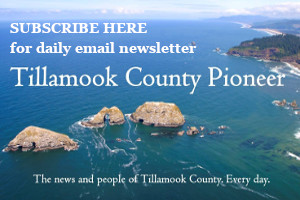 ASTORIA, Ore. — The Coast Guard rescued one person found stranded on a channel marker and recovered an unresponsive person from the water after a vessel capsized Sunday on the Columbia River near Astoria.
At 2:25 p.m., a caller, who witnessed from shore, notified Coast Guard Sector Columbia River watchstanders that a boat reportedly capsized causing two people to enter the water east of Tongue Point.
A Coast Guard Air Station Astoria MH-60 Jayhawk helicopter crew and a Coast Guard Station Cape Disappointment 29-foot Response Boat-Small II crew launched.
At 3 p.m., the aircrew arrived on scene and located the stranded person atop a dayboard channel marker. A rescue swimmer deployed to retrieve the person before the two were hoisted from the water to the helicopter.
Remaining on scene and conducting a continued search of the area, at 3:22 p.m., the aircrew located a person floating face-up but showing no signs of mobility.
Due to shallow water depth, the Coast Guard boatcrew was unable to access the person's location. The rescue swimmer was again lowered from the helicopter to the water and observed the person to be unresponsive and not breathing.
After transporting the person to the nearby Coast Guard boat, the rescue swimmer remained with the person to conduct cardiopulmonary resuscitation efforts while transiting to awaiting emergency medical personnel at the East Mooring Basin. The person was unresponsive when transferred from Coast Guard care.
The aircrew transported the person rescued from the channel marker to Air Station Astoria and was transferred to the care of awaiting emergency medical personnel in stable condition.