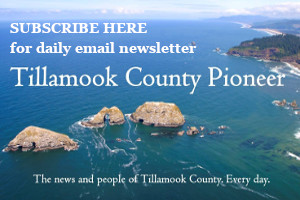 WARRENTON, Ore. — The Coast Guard suspended its search at 9:42 a.m. for Samuel Allen, a 17-year-old boy off Rockaway Beach, Thursday.
As we've come to the difficult decision to suspend this search, we extend our deepest condolences to those affected by this tragedy. We also want to thank all our partner agencies who assisted with search efforts for their dedication and service to the public.
Watchstanders at Coast Guard Sector Columbia River received the initial notification at 2:30 p.m., Wednesday, that two people were missing in the water off the beach. The call, which had been relayed by Tillamook 911, came from the step mother of the missing teen. She reported it appeared her stepson had been struggling to get back to shore on his body board, her husband had entered the water to assist the son, and she lost sight of them.
A 47-foot Motor Life Boat crew from Coast Guard Station Tillamook Bay was conducting a bar report when the call came in and responded, but due to concerns with the shallow water, was only able to search from offshore.
Two MH-60 Jayhawk helicopter crews from sector also responded. One of the aircrews spotted someone in the water shortly after arriving on scene and directed the second aircrew with a rescue swimmer aboard to the location. The rescue swimmer was deployed, hoisted the unresponsive father from the water and provided CPR until he had been transferred to emergency medical service personnel on the beach.
Robert Allen, 50, the missing teen's father from Fort Collins, Colorado, was later pronounced deceased.
A little after 4 p.m., 911 dispatchers notified sector personnel that both body boards had been found on shore and that Rockaway Beach Fire and Rescue personnel were searching the beach on all-terrain vehicles.
Initially it was reported that the missing teen was wearing a black wetsuit, but the wetsuit was later confirmed onshore and unused by Rockaway Beach Police Department personnel.
Around 5:30 p.m. the crew of the Coast Guard Cutter Swordfish was diverted to assist in the search and an MH-65 Dolphin helicopter crew, from Coast Guard Sector North Bend and forward deployed to Air Facility Newport, launched to assist as well.
Throughout the day, multiple reports came in from good Samaritans of objects in the water, with only sea lions seen at the first location and a crab pot buoy located at the second location.
The Swordfish crew arrived on scene after midnight and searched throughout the night. Coast Guard Dolphin and Jayhawk aircrews searched until after sunset, and a Jayhawk aircrew resumed the search around first light the following morning along with another station boat crew. The Swordfish, Station Tillamook Bay and Jayhawk crews continued their efforts until the search was suspended.
Coast Guard members were assisted by Oregon State Police, Rockaway Beach Fire and Rescue, Rockaway Beach Police Department, Tillamook County Dispatch and Tillamook County Sheriff's Office personnel.
Weather on scene was 1 to 2 foot high seas with swells up to 8 feet high, 11-MPH winds, good visibility, an air temperature of 55 F and a water temperature of 58 F.