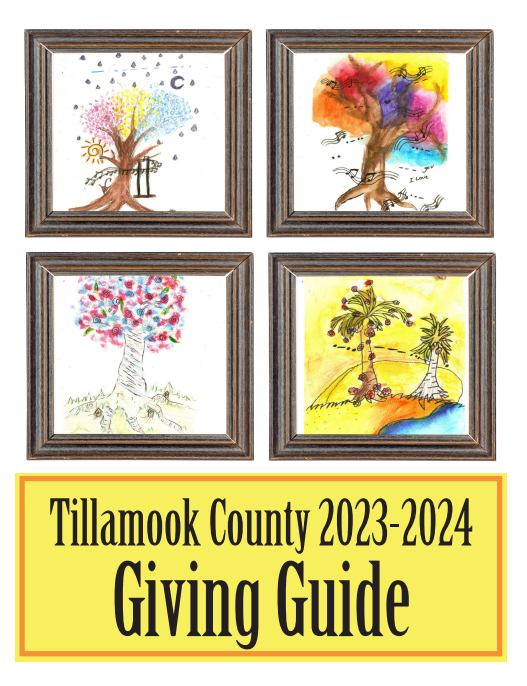 By Robin Swain
Terry and Teresa Freeman, owners of Coastal Art Creations, Art Gallery and Gifts, will be having their Grand Opening at 236 Garibaldi Avenue, Garibaldi OR this Saturday December 3rd from 12:00 to 4:00 PM.
Terry, along with many of the other artists featured at the gallery, are blue ribbon winners. The Gallery is featuring local Tillamook County Artists across many different mediums. During the opening event, purchase tickets to win one of Terry Freeman's paintings.
Sherry Sheldon is one of the featured artists at the gallery. She started painting years ago under the instruction of Dorothy Kjemperud, and now Sherry is an art instructor, as well. Sherry will be offering classes on Tuesdays at the gallery.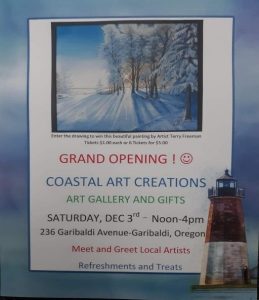 Hannah Hood is another featured artist, who will also be teaching classes in acrylic paints, Her first class is scheduled for December 17th at Coastal Art Creations.
Robert and Carol Boaughman will  have Robert's unique birdhouses and Carol's windchimes.
Julio Maxwell will  be showcasing the jewelry he has created.
Please stop by Coastal Art Creations and Gifts, 236 Garibaldi Ave. in Garibaldi this Saturday. We look forward to meeting you and introducing you to these fine local artists.
Follow us on Facebook
https://www.facebook.com/groups/1115252065759804/