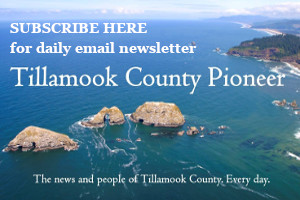 The Coastal Buzz is back this week. Walter Mills has some ideas for staycation Spring break from south in Tillamook to north in Seaside — Tillamook Air Museum where physical distancing is easy in the mammoth hangar. Then the "buzz" part — it's up to Seaside with local winery Buddha Kat.
In this episode,  we visit the Tillamook Air Museum and speak with Christian, the curator of the Museum; located at 6030 Hangar Rd Tillamook.
Over 25 aircraft, a gift shop, and outstanding exhibits- all housed in a wooden WW ll Bimp hangar. Welcome to history housing history.
In 1942, the U.S. Navy began construction of 17 wooden hangars to house the K-class blimps being used for anti-submarine coast patrol and convoy escort. Two of these hangars were built at the Naval Air Station Tillamook, commissioned in December 1942 to serve the Oregon-Washington coastal area.  Construction of the two hangars was rushed to completion. Hangar "B" was the first one built and was completed in August of 1943. Hangar "A" which was destroyed in a 1992 fire, was completed in only 27 days. Amazingly, there were no serious injuries or deaths on the whole project.
Stationed at NAS Tillamook was Squadron ZP-33 with a complement of eight K-ships. The K-ships were 252 feet long and filled with 425,000 cu. ft. of helium. With a range of 2,000 miles and an ability to stay aloft for three days, they were well suited for coast patrol and convoy escort. Naval Air Station Tillamook was decommissioned in 1948.
Next, we travel up to Seaside and visit with Ben over at Buddha Kat winery and Tasting room – a boutique winery in Sandy, Oregon and a wine shop in Seaside. Please come by and taste our award-winning fruit and grape wines!
37 N Edgewood St Seaside, OR 97138
Please like our Official page: https://www.facebook.com/BuddhaKatWinery/ or check us out online at: