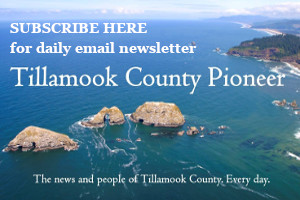 By Lee Darby, Lee's Guide Service
Last week's Free Fishing Weekend was successful with several events held county-wide. Hopefully many of you were able to take part.
Although salmon fishing was overall slow, those that put the time in saw fairly decent results.
Tillamook Bay:  Chinook fishing has been sporadic. The lower bay has yielded the most fish during this past week's soft tides. With upcoming bigger tides, we should see more fish push into the upper bay.
Wilson River Chinook/Steelhead:  There have been some chinook present in the river. With water levels being low, look for them holding in the deeper holes. Summer steelhead should start showing as the month progresses.
Trask River Chinook:  Fish are spread throughout the river from the hatchery on down through tidewater. Fishing pressure in the popular spots has been heavy with catches being light.
Nestucca River Chinook:  Fish are present through the river, with numbers expected to improve through June.
Trout Fishing:  Area lakes stocked last week include Coffenbury, Hebo, Cape Mears, and Town Lake.
Tight lines!