Community Action Resource Enterprises, (CARE) Inc. is pleased to announce the hiring of Peter Starkey of Keene, New Hampshire as its new executive director. Starkey will be only the third executive director in CARE's 30-year history, following Erin Skaar who will be leaving to take on her new role as County Commissioner in January. Starkey will begin in mid-December and will train alongside Ms. Skaar before she begins her work with the County.
"The CARE Board of Directors worked with Solid Ground Consulting to do an extensive, five-month, search process to find a leader who has the skills and talent to help write the next chapter of CARE and fulfill our strategic goals." said Lisa Phipps, board chair. "Peter quickly rose to the top of our list of candidates because of his advocacy and fundraising skills along with his passion for our mission and community."
Starkey will be leaving his role as executive director of Monadnock Peer Support, a mental health nonprofit providing a variety of wrap around services for clients. In his time at Monadnock, Starkey leaves behind an impressive array of achievements. He coordinated advocacy efforts with state and local officials on a variety of policy initiatives. He started a transitional housing program to support individuals in job attainment and housing stability. He also grew their funding base by more than 140 percent, while raising the public profile of the agency. "I am excited to join the CARE team and to get started working with the passionate staff and community members that support Tillamook County," said Starkey. "It is an honor to be part of the next chapter of CARE."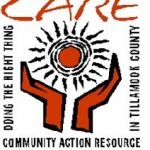 About CARE
CARE is a highly regarded nonprofit social service agency serving Tillamook County, Oregon. Since its founding in 1991, CARE remains committed to fostering changes that make healthier, more resilient communities throughout Tillamook County and empower people as they work to meet their immediate, basic needs.
CARE continues to support those impacted by COVID-19. If you or someone you know has been financially impacted by the pandemic, help is still available. Call CARE today at 503-842-5261. And remember, CARE has temporarily moved to 904 Main Ave., Tillamook, OR while we renovate our offices.
To join with CARE and help write our next chapter, please consider making a donation at www.careinc.org/donate. To learn more about CARE visit our website at www.careinc.org or like us on Facebook @TillamookCARE.