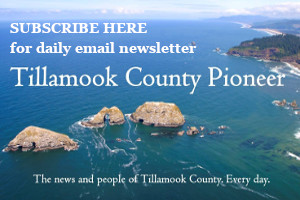 Seattle-based Flamenco dancer, Savannah Fuentes, brings her latest show, Como el Aire, an evening of Flamenco, to the White Clover Grange in Nehalem March 8th. Joining Savannah will be singer/percussionist, direct from Spain, Diego Amador Jr. and internationally recognized Flamenco guitarist, direct from Spain, Carlos de Jacoba. The all-ages event is part of a 30-date west coast tour with additional performances in Colorado and New York City.
Savannah Fuentes, Flamenco dancer and producer, is one of the only touring artists in the Pacific Northwest region with deep connections to Flamenco culture, presenting "…real Flamenco, straight and stunning," (Regina Hackett, Seattle Post Intelligencer.) She has independently produced and danced in over 300 performances and workshops featuring internationally recognized Spanish Flamenco artists, including Jose Anilo, Saray Munoz, Jesus Montoya, and Juanarito.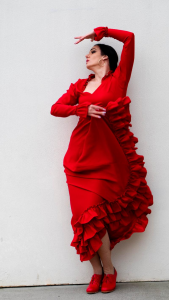 Savannah Fuentes was born in Seattle to parents of Puerto Rican and Irish ancestry. Her fascination with Flamenco dance (baile) and singing (cante) came to her in early childhood, fueled by watching a Flamenco performance on television "…and, although I was just a child, I felt am immediate connection to the art form."
Ms. Fuentes considers Flamenco a lifelong study, an artistic journey she began in her late teens that continues to this day. She has studied with many notable Flamenco artists including Guadiana, Joaquin Grilo, Eva Yerbabuena, El Farru, and Isabel Bayon. Ms. Fuentes attributes her formation as an artist to her most significant mentor, Maestra Sara de Luis.
Accompanied by her notable guest artists, Savannah Fuentes tours the West and beyond regularly, bringing delighted audiences authentic, passionate Flamenco performance art. She regularly tours throughout Washington, Oregon, California, Nevada, Utah, Montana, Idaho, Colorado, and Arizona – often performing for communities that would otherwise be unable to enjoy this exciting art form in the intimate setting of live theater.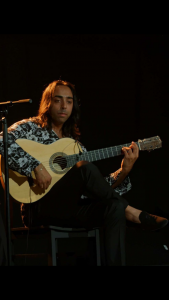 Carlos de Jacoba, Flamenco guitarist, was born in the Granada town of Motril, into a Roma family. His father Antonio, was an "aficionado" of Flamenco singing, and passed his passion for Flamenco onto his family. At age 11, Carlos was given his first guitar. He studied with Master Guitarist Manuel Caraval Ramos, who helped young Carlos develop into the exceptional artist he is today.
At the age of 16, Carlos de Jacoba went on a tour of The Netherlands with fellow musicians from Motril. On a quest for fresh artistic ideas, Mr. de Jacoba relocated to Madrid a few years later, where he was soon recognized for his talent. There he entered into the world of avant-garde Flamenco, working with many famous Flamenco musicians, including The Pirana, The Package, Jose Antonio Salazar and Diego El Cigala, whom he joined on tour after the release of Cigala's album "Picasso en mis ojos".
From then on, tablaos, penas and theaters opened their doors to Mr. de Jacoba. To date he has accompanied many of Flamenco's most prominent artists, including singers El Portugues, Potito, Montse Cortes, Miguel El Rubio, Guadiana, Duquende, Estrella Morente, Rancapino, Romerito de Triana and dancers Antonio Canales, Farruquito and Jose Maya. He also collaborated with Enrique "Piculabe" on the album "Sing and Dream".
Seduced by many forms of music in his career, Carlos de Jacoba has collaborated with internationally renowned recording artists from diverse backgrounds, including jazz guitarist Larry Coryell, Cuban bassist and multi-instrumentalist Alain Perez and Latin jazz trumpeter and percussionist Jerry Gonzalez.
Currently involved with many artistic projects, Mr. de Jacoba also performs with his own sextet, leading his audiences into the "most personal side" of his music. Roma tradition, knowledge and passion mingled together with modernity, freshness and romanticism define Carlos de Jacoba as a Flamenco guitarist for our time. Carlos's music here https://www.youtube.com/channel/UCwhmRvxFZLEhLv0jRwEnRDg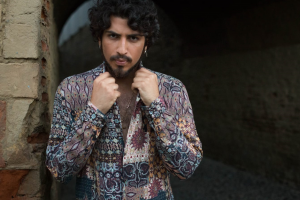 Diego Amador Jr., Flamenco singer, percussionist, was born in Seville into a family considered "Flamenco royalty." His father is the celebrated Flamenco pianist Diego Amador and his uncles Rafael and Raimundo Amador, were the founders of popular Flamenco band "Pata Negra."
From a very young age Diego Amador Jr. began performing and touring with some of Spain's top Flamenco artists, including Remedios Amaya, La Susi, Lole Montoya, Farruquito and Joaquin Cortes.
Known in Flamenco circles as a percussionist, Diego Amador Jr. is also an accomplished Flamenco singer, guitarist and pianist as well. He has recently launched a solo project in New York City as a singer/songwriter with the track "Y me siento tan bien", that features his sensual, powerful voice and guitar prowess.
March 8, 8:00 pm
White Clover Grange
36585 Highway 53
tickets available at www.brownpapertickets.com
tickets: https://www.brownpapertickets.com/event/4495089
Complete tour information www.savannahf/performance