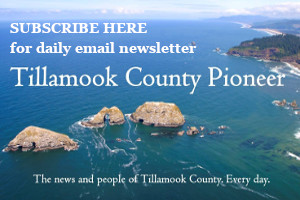 By Matt Maizel
The resilient Mooks would force six turnovers in their semifinalmatch and outlast the La Grande Tigers at a neutral site in Gresham (Sam Barlow High School) last Saturday evening, November 19th.
Sam Diaz, a senior on the Mooks defensive line, began padding his stats early – as he would force a fumble on La Grande's quarterback and recover it, as well. Tillamook would start their first drive at their own 31 yard line.
La Grande's Logan Williams would test Tillamook's secondary on a deep pass on their next possession, but senior defensive back Parker McKibbin had other plans, intercepting the shot at the Tigers' 49 yard line and returning it into opponents' territory before being pushed out of bounds.
Struggling to find continuity and move the sticks on offense, the Mooks needed another big play on defense. Junior defensive back Eligio Maciel seized the moment and delivered with an interception at the La Grande 29; he returned it deep into Tigers' territory for Tillamook's third turnover in the first quarter.
Taking advantage of another short field, The Cheesemakers would find their way into the endzone first with a 6 yard gut punch up the right tackle by senior running back Judah Werner. It was 7-0 after the PAT was good.
Early in the second quarter, Werner would take matters into his own hands after Tillamook's defense did their job with another rushing touchdown, this time from 5 yards out, for his second of the half. The PAT was good and The Cheesemakers were feeling good being up 14-0.
However, La Grande's Williams would find the endzone on a quarterback draw from 3 yards out on the following possession to make it 14-7 after the successful PAT. The score was still 14-7 after a quick moving first half.
Tillamook got the second half kick, and after a long 8 play drive with many punishing runs for sizable gains, Judah Werner and the Mooks offensive line would pound it in from 1 yard out.
This was Werner's third touchdown with a little under 8:00 in the third quarter, and just like that, it was 21-7 Cheesemakers.
La Grande's offense would find themselves in trouble again as Diaz forced his second fumble, this time it was recovered by Tillamook's senior linebacker Gilbert Whitlatch at La Grande's 42 yard line. Tillamook forced fumbles in back-to-back possessions, as junior defensive end Tyler
Motsinger would join the fun and get a FR of his own.
Judah Werner had a night, as he would rip another touchdown rush up the middle for 7 yards while getting his fourth touchdown to turn the giveaway into points. It was 28-7 as the third quarter came to a close.
La Grande's Logan Williams completed a pass to receiver Sam Tsiatsos for a 2 yard touchdown with 9:49 left in the game to stay alive, but the extra point was missed – it was 28-13 Mooks.
The running backs from La Grande would begin to get involved after a forced fumble, and the Tigers scored again with a 6 yard touchdown rush with 5:00 left in the game – and it was 28-21 Mooks after the successful 2 point conversion.
Tanner Hoskins would get involved himself, as he found Zeyon Hurliman for 28 yards and his longest completion of the game. Another fumble gave the ball back to the Tigers, but a risky pass was intercepted by senior defensive back Tyler Moncrief at Tillamook's 37 yard line to end any shot at a comeback. The Cheesemakers successfully ran out the clock and clinched a spot in the 2022 OSAA 4A State Championship game which is slated for this Saturday, November 26th, 4:30pm @ Hillsboro Stadium. The Mooks will look forward to battle against the #5 Estacada Rangers for the crown.
Judah Werner finished the day with 29 rushes and 100 rushing yards with 4 touchdowns, Tanner Hoskins had 11 carries and 45 rushing yards, Gilbert Whitlatch had 7 carries for 38 yards. Tanner Hoskins also went 8-16 on pass attempts for 80 yards, while Zeyon Hurliman had 4 catches for 57 yards and Judah Werner had 3 catches for 13 yards out of the backfield.