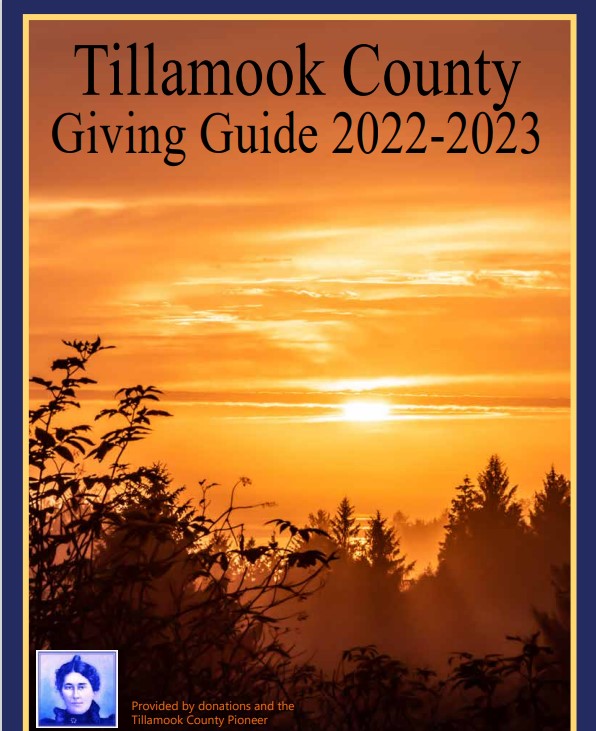 As we head into a weekend with unseasonably warm and dry temperatures, you may be planning to do some outdoor activities. People in Oregon know how to take advantage of beautiful weather.  
The good news is that outdoor activities are a low-risk way to enjoy yourself during the pandemic.
However, much of the spread we're seeing throughout the state has been caused by large social gatherings where people are not physically distant and are not wearing masks. Three stories of recent outbreaks that illustrate how COVID-19 is spreading in our communities were shared at today's news conference.
A multi-night karaoke event led to 36 cases, three hospitalizations and one death.
An indoor concert at a small music venue resulted in 15 cases.
All 10 people who attended a backyard gathering fell ill.
We all know how to make the safest choice: wear a mask, limit indoor gatherings, keep our distance and get vaccinated as soon as it's available to us. The more we reduce the spread today, the closer we'll be to the day when we can return to more ordinary activities.
As Dr. Sidelinger pointed out during Friday's media availability, "This is not forever – just for now." 
Oregon reports 704 new confirmed and presumptive COVID-19 cases, 2 new deaths; Tillamook County adds 3 more cases, April 16th
There are two new COVID-19 related deaths in Oregon, raising the state's death toll to 2,457, the Oregon Health Authority reported Friday April 16, 2021.
Oregon Health Authority reported 704 new confirmed and presumptive cases of COVID-19, bringing the state total to 173,626.
The new confirmed and presumptive COVID-19 cases reported are in the following counties: Baker (9), Benton (7), Clackamas (79), Clatsop (3), Columbia (6), Coos (6), Crook (15), Curry (3), Deschutes (59), Douglas (7), Grant (25), Hood River (3), Jackson (54), Jefferson (3), Josephine (29), Klamath (43), Lake (2), Lane (57), Lincoln (6), Linn (20), Malheur (1), Marion (63), Morrow (5), Multnomah (88), Polk (13), Tillamook (3), Umatilla (9), Union (2), Wallowa (1), Wasco (6), Washington (69) and Yamhill (8).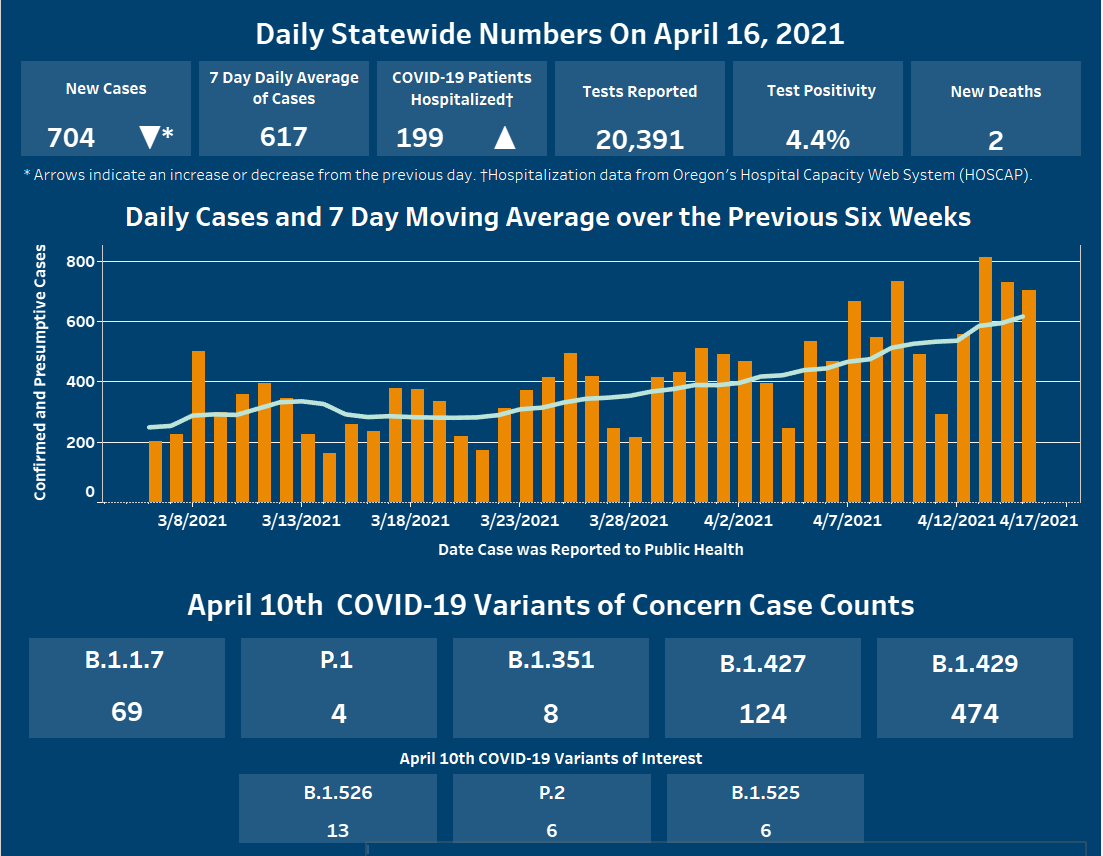 Governor Brown, OHA provide update on vaccinations in vulnerable communities and spread of COVID-19
Today, Governor Brown and Oregon Health Authority (OHA) held a news conference to give updates about COVID-19 in Oregon. Below are some of the main topics covered. You can watch a recording of the conference in English or Spanish.
Access to vaccination
OHA Director Patrick Allen acknowledged that, while OHA has worked to create equitable access to the COVID-19 vaccines, we have not succeeded.
"The numbers are stark and clear," said Director Allen. "For too many people, race and income are predictors of whether you can access a COVID-19 vaccine – or not. Yesterday, I heard the leaders of organizations who serve the Latino/Latina community voice their legitimate frustration at the inequitable disparity in vaccination rates for the Latino community. I share their frustration. As a state, we can and need to do better."
Despite state efforts to prioritize vaccination of Latino community members, vaccination of Latinos/Latinas in Oregon remains low. As the state opens eligibility to everyone who is 16 and older on Monday, April 19, OHA pledges to focus efforts on those who have been most vulnerable to COVID-19 by working with community leaders.
Johnson & Johnson pause
Oregon vaccine providers were asked to immediately pause administering the Johnson & Johnson vaccine following an announcement from the Centers for Disease Control and Prevention (CDC) and the U.S. Food and Drug Administration (FDA).
Six women between the ages of 18 and 48 showed symptoms of a rare and severe type of blood clot beginning six to 13 days after vaccination with the Johnson & Johnson vaccine.
State Health Officer and State Epidemiologist Dr. Dean Sidelinger emphasized that, despite the pause on the Johnson & Johnson vaccine, the COVID-19 vaccines remain safe and effective. Of the pause, he said, "This action shows that our safety monitoring works – picking up a potential issue early."
If you received the vaccine less than three weeks ago, and you are experiencing any of the following symptoms, please seek medical care:
New severe headache
Severe abdominal pain
Shortness of breath
Leg swelling
COVID-19 spread increasing
According to Dr. Sidelinger, Oregon has seen cases rise rapidly over the past few weeks. Here is some of what he shared:
Daily cases of COVID-19 have more than doubled in just over a month.
Over the past two days, OHA has reported 1,576 new cases, the highest two-day total since early February.
The largest increased illnesses in Oregon are in people in their twenties.
The second biggest increase is in people in their thirties.
According to the CDC, hospitals around the U.S. are seeing more people in their 30's and 40's who have been admitted with severe cases as the virus continues to mutate.
"Today, we find ourselves at another inflection point," said Dr. Sidelinger. "Our actions over the next few weeks will determine when and whether we are able escape the pandemic. We have worked diligently since March to protect ourselves, loved ones and communities. We have stayed home – moved celebrations online, missed mourning with our families, some have lost jobs – and all have made tremendous sacrifices."
More than 1.5 million Oregonians have received first dose of COVID-19 vaccine
Today, OHA reported that 47,407 new doses of COVID-19 vaccinations were added to the state immunization registry. Of this total, 28,146 doses were administered on April 15 and 19,261 were administered on previous days but were entered into the vaccine registry on April 15. Cumulative daily totals can take several days to finalize.
The seven-day running average is now 38,239 doses per day.
Oregon has now administered a total of 1,268,433 doses of Pfizer, 1,089,987 doses of Moderna and 87,666 doses of Johnson & Johnson COVID-19 vaccines. As of today, 988,584 people have completed a COVID-19 vaccine series. There are 1,542,429 who have had at least one dose of a COVID-19 vaccine.
To date, 1,513,395 doses of Pfizer, 1,313,100 doses of Moderna and 215,000 doses of Johnson & Johnson COVID-19 vaccines have been delivered to sites across Oregon.
These data are preliminary and subject to change.
OHA's dashboards provide regularly updated vaccination data, and Oregon's dashboard has been updated today.
COVID-19 hospitalizations
The number of hospitalized patients with COVID-19 across Oregon is 199, which is four more than yesterday. There are 52 COVID-19 patients in intensive care unit (ICU) beds, which is one fewer than yesterday.
The total number of patients in hospital beds may fluctuate between report times. The numbers do not reflect admissions per day, nor the length of hospital stay. Staffing limitations are not captured in this data and may further limit bed capacity.
Learn more about COVID-19 vaccinations
To learn more about the COVID-19 vaccine situation in Oregon, visit our webpage (English or Spanish), which has a breakdown of distribution and other information.