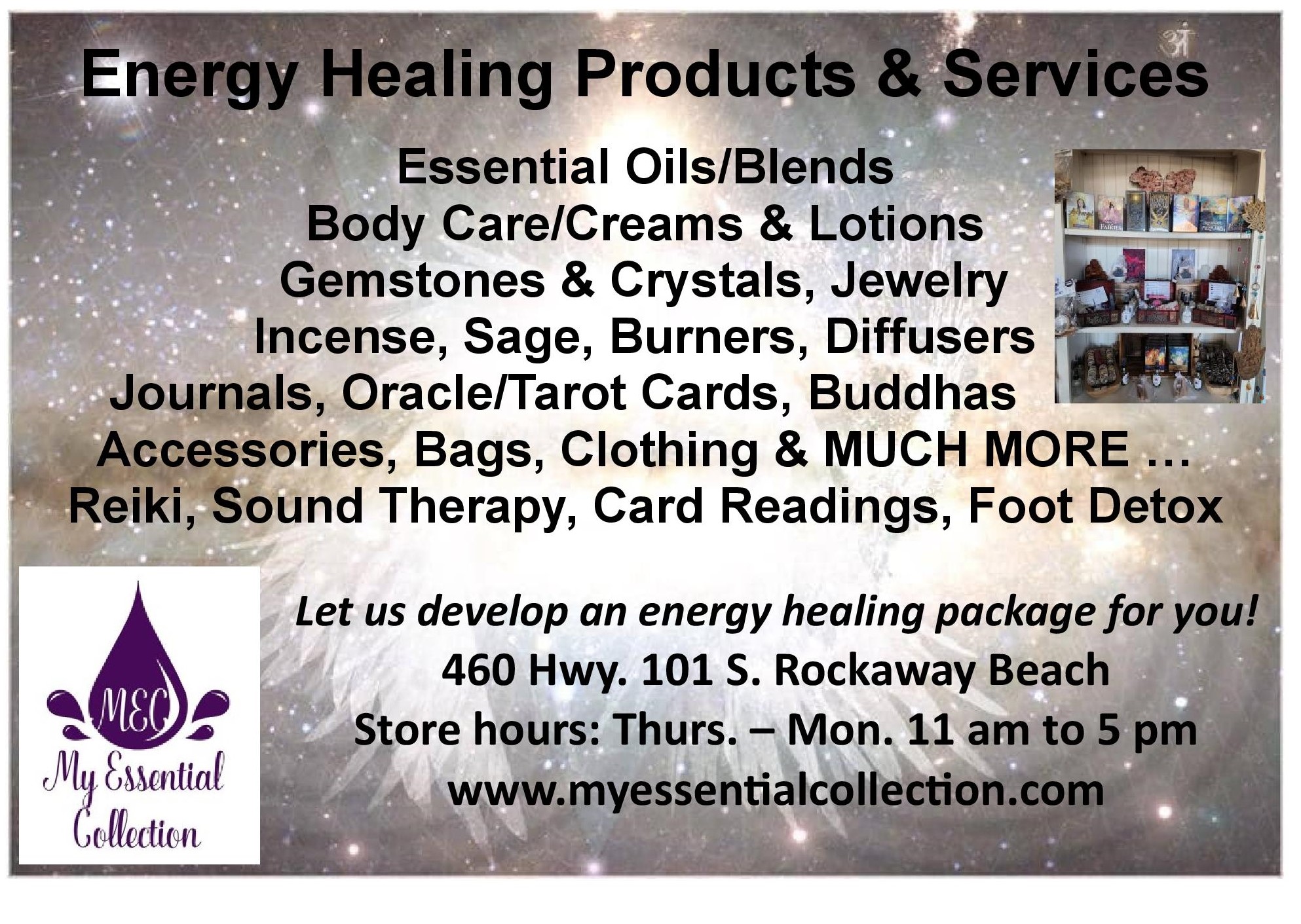 Respect the closures. Closed means closed.
Stay home. Save lives.
Some parks are now open to limited daytime use. Check our Park Status Map for information. More parks are opening daily—check back regularly. We have made the difficult decision to keep the park system closed to camping at least through and including June 8.
1. Which parks are you opening and when?
Check our Park Status Map for regular updates on open parks.
Coastal parks remain closed (see #11, below).
Decisions about when and where to open are guided by Gov. Kate Brown's reopening framework, which prioritizes public health and local communities' readiness to welcome visitors.
Camping is closed until and through June 8, 2020 at least. This doesn't mean we are open for camping on June 9. It means we haven't made a decision yet, and that decision will come before June 9.
Reservations: As of April 28, we have suspended all new camping and facility reservations. We will open up reservations when we have a reopening date. Existing reservations for stays after June 8 are not affected at this time (see #7, below).
We will post reopening announcements on this website and on our social media channels.
2. How will you reopen safely?
All decisions about reopening follow recommendations from the Oregon Health Authority and are based on these main points:
Where can we open without straining nearby communities?
How can we keep visitors and staff as safe as possible, given reduced services and staffing?
How can we keep facilities clean, allow for adequate physical distancing and monitor parking lots, among many other operational duties?
3. Why are only some parks open right now?
We are opening parks for limited day-use carefully and methodically, and after consultation with local communities and health authorities. Some parks need to stay closed longer, especially areas with communities that are not ready for an influx of visitors. The Columbia River Gorge, the Coast, Smith Rock, and other parks are not ready to welcome visitors at this time.
4. What should we expect now that some parks are open for daytime visits?
Because of the closure, we did not bring on our usual seasonal staff and volunteer hosts. Staffing is very limited and will continue to be limited as we slowly welcome back visitors. Please understand that service levels may not be what you are used to, and areas and buildings within the park may be closed. Visitors should also expect new restrictions that discourage group gatherings and congestion.
Please prepare:
Stay home if you're sick.
If you visit, stay local and close to home—meaning less than 50 miles in urban areas.
Only visit with members of your household.
Bring all supplies—food, water, hand sanitizer—needed for a short trip.
If a park appears crowded, leave and come back another time.
If there's space at the park, please:
Wear a face covering in congested areas. Homemade is fine.
Stay at least 6 feet away from people who aren't from your household. Further apart is better.
Cover your cough with a tissue (then throw it away), or the inside of your elbow.
Leave no trace: pack out everything you bring with you.
Stick to low-risk activities to reduce stress on local emergency response and health care systems.
Keep your visit short. Restrooms and other buildings may be closed.
Watch for signs at the park for more information.
5. Why can't we go camping? Day use seems to cluster more people together.
Camping requires further travel and congregates people into one area for longer periods of time. We're opening for limited day-use with the expectation that people will not travel long distances, or into communities that are not yet ready for campers and long-term visitors. We expect people to keep a safe distance from one another—at least 6 feet. If this is does not happen, we may have to close parks again.
Nearly all of our parks have spots or trails where you can get away from other people. The problem is that our parks also have common areas where large numbers of people congregate: restrooms, parking areas, trailheads, narrow bridge crossings, etc. Those choke points make it extremely hard to practice physical distancing.
Those choke points, coupled with the likely huge numbers of people cramming into parks the moment the sun comes out, would be a worst-case scenario for COVID-19 transmission. Please be sure to keep distance away from others and wear a face covering in places where there are more people.
6. What happens if someone sneaks into a closed park?
Closed is closed. We lock restrooms, stop trash service, and it's not safe for you to go into a closed park. If we see you in a park, we'll ask you to leave. If you refuse, we can issue you a citation. If that's not persuasive enough, we can call law enforcement. We don't want to do that, and they don't need the hassle. Take a step back and understand this is temporary and driven by Oregon's state of emergency. Stay home, stay healthy, visit us online, and we'll see you on the other side.
Cancellations and refunds
7. I have a reservation in May and/or June. What's your cancellation policy?
All existing reservations from the start of the closure on March 23 through the night of June 8 are being cancelled and fees refunded, including the $8 reservation fee. This includes reservations that begin on or include June 8.
If you wish to cancel a reservation for a stay that starts June 9 or after, standard cancellation and refund policies apply.
We are processing refunds as fast as we can. If you do not see your refund within 10 business days of receiving notification that your cancellation is processing, please contact us at 800-551-6949 or park.info@oregon.gov.
8. Why can't I make a new reservation for some time after June 8?
As of April 28, we are temporarily suspending all new reservations, for both camping and day-use facilities. This is due to the rapidly changing health emergency, and the expense of processing cancellations. We will resume taking reservations once an opening plan and dates are in place. We will announce opening dates for reservations on this website and through social media when we know them.
9. What about my day-use parking permit?
Since our state park system was closed to all public use from March 23 to May 6, and did not substantially re-open to day-use until the week of May 11, we will add time to 12 and 24-month parking permits that were unable to be used during our closures.
Two months will be added to all 12 and 24-month state park parking permits currently valid and in circulation. This extension applies to 12-month permits purchased starting in March 2019, and 24-month permits purchased starting in March 2018.
Any 12 or 24-month pass purchased in May 2020 or later will expire normally.
For more details, see our Day-Use Permit Extension page.
10. Can I get my tax dollars back since you are not operating?
Oregon State Parks does not operate with any general fund tax dollars. Park operations are funded through three main sources: Lottery revenue, user fees, and a portion of RV registration proceeds.
Other park closures
11. Are beaches open?
This decision doesn't affect the entire ocean shore, but it does close all state park-managed parking lots and beach accesses. Cities, counties, federal land managers, and businesses who manage accesses may follow suit. For example, the ocean shores within the north and south boundaries of the city of Seaside are closed. If you visit a beach, expect law enforcement patrols.
We have the authority to close the beach temporarily for health reasons. If people don't get the message that clumping up and overwhelming local areas is a bad idea, we'll have to revisit the decision to leave all beaches open.
Cities and counties can also ask the state's Office of Emergency Management (OEM) to close beaches within the city or county boundaries. We will honor requests approved by the OEM. Local law enforcement is primarily responsible for enforcing the closure. Such closures apply to all visitors, including locals and travelers. Please check before you go.
12. Are park RV dump stations open?
If the park is closed, so is the dump station. Commercial providers may still be open.
13. Are boat launches open?
All boat launches inside closed state parks are closed. If you take in from a launch outside the state park, please note that your take-out point inside a state park will not be accessible.
Some boat launches may be available starting May 6th. Please see above for parks with limited day-use openings and included boat ramps.
Remember:
Wash your hands regularly with soap and water for at least 20 seconds at a time.
Avoid touching your face.
If you're sick with any ailment, stay home. Avoid close contact with people who are sick.
When in public, maintain a social distance of at least 6 feet.
Cover your cough or sneeze with a tissue, then throw it away. If you don't have a tissue, use your elbow.
Clean surfaces you touch regularly.
Follow these guidelines.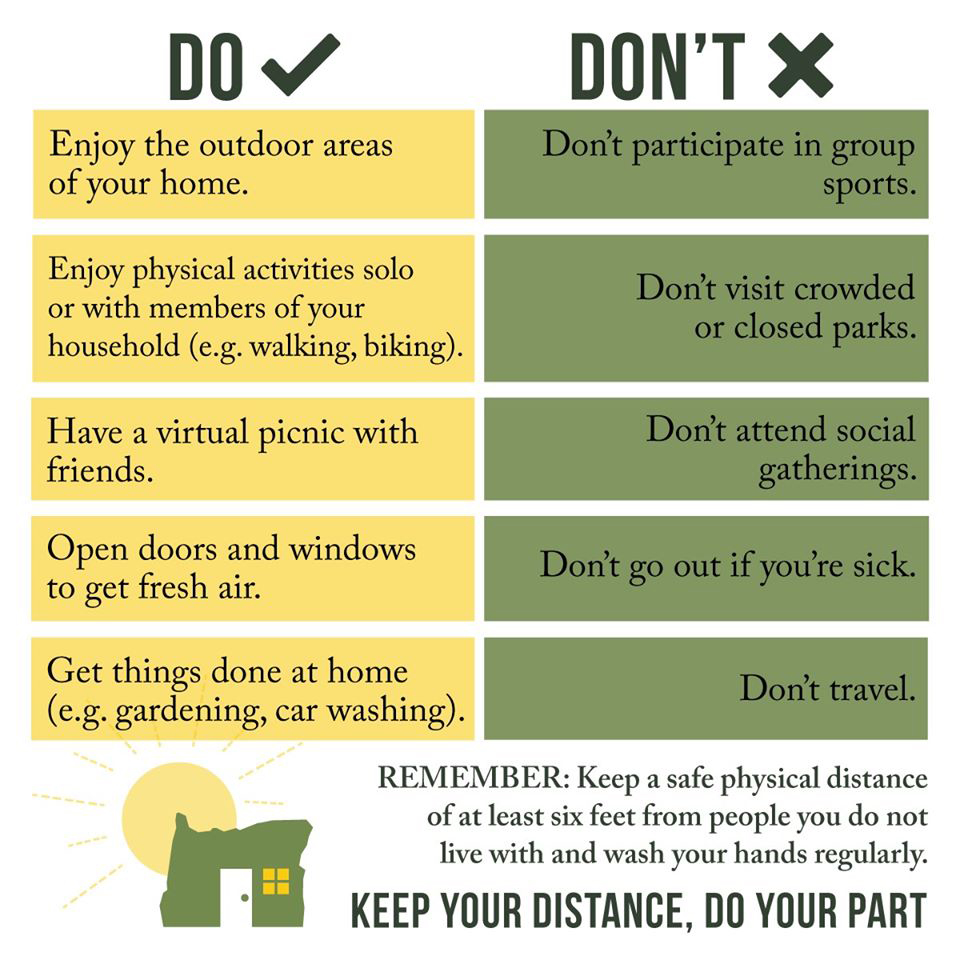 For other land management agencies and their updates, please visit:
National Parks: https://www.nps.gov/state/or/index.htm
US Forest Service: https://www.fs.usda.gov/detail/r6/home/?cid=fseprd716206
US Bureau of Land Management: https://www.blm.gov/oregon-washington/covid-access-restrictions
US Army Corps of Engineers: https://www.nwp.usace.army.mil/
US Fish and Wildlife Service: https://www.fws.gov/home/state-by-state-closures.html
Oregon Department of Fish and Wildlife: https://myodfw.com/COVID-19
Oregon Department of Forestry: https://www.oregon.gov/odf/Pages/COVID-19.aspx
Oregon Recreation and Parks Association: https://www.orpa.org/page/covid19
Idaho Power parks: https://www.idahopower.com/community-recreation/recreation/
Portland General Electric parks: www.portlandgeneral.com/parks