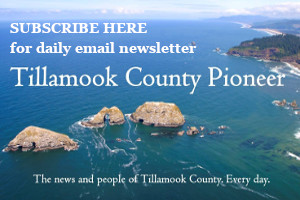 Sample fresh, sustainable foods and beverages from 40 local producers
Tillamook County, Oregon – Crave the Coast, the inaugural food festival celebrating the bounty of Oregon's North Coast, will take place September 29 under the big event tent in Garibaldi on Tillamook Bay. The festival will feature 40 local food and beverage producers, food trucks serving fresh seafood and grass-fed beef, cooking demonstrations, prize giveaways and an opportunity to meet the makers. There will also be opportunities to explore Garibaldi's port and fisheries.
The festival is from noon to 6 p.m., and tickets are $30 for adults, $20 for those under 21, and free for children six and under. Tickets can be purchased on the Crave the Coast website.
"Oregon's North Coast is undergoing a food renaissance, thanks to the passion, collaboration and creativity of producers, fishers, harvesters, brewers, winemakers, cheesemakers and chefs," said Nan Devlin, tourism director of Visit Tillamook Coast and the North Coast Food Trail. "This corner of Oregon has given rise to the coast-to-table concept of fresh, sustainable, diverse and delicious."
The festival, developed by Visit Tillamook Coast, is sponsored by Travel Oregon, Port of Garibaldi, Tillamook Chamber of Commerce, KTIL Tillamook Radio, Tillamook Creamery, Tillamook Country Smoker, Pacific Seafood, the city of Bay City, Pacific Supreme and Pelican Brewing Company.
In addition to sponsors, the exhibiting producers are from within the coast range to the coast, get their ingredients from the coast, or have strong local producer connections. Among the exhibitors are Fishpeople Seafood, North Fork 53, Food Roots, Cannon Beach Distillery, Nehalem Bay Winery, Nestucca Bay Creamery, Garibaldi Cellars, Depoe Bay Brewing, Riverhouse Dressing and many more.
"The festival is part of the North Coast Food Trail, launched earlier this year," said Devlin. "The trail's theme of Food, Farm, Fish and Forage aptly describes the richness of the region and the accessibility of local products."


The North Coast Food Trail includes 60 participants that specialize in local foods, including farms, farmers markets, restaurants, lodging, retail, cooking schools, guided experiences and breweries, wineries and distilleries. The trail extends from Cannon Beach through Tillamook County to Lincoln City.
For more information, call (503) 842-2672 or email nan@tillamookcoast.com.