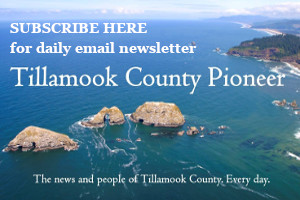 River canoes are a significant piece of Native American culture. They were the primary method of transportation by many tribes of North America who relied on them for hunting, fishing and trading expeditions.
On Sept. 19, you can join the Friends of Netarts Bay WEBS as they welcome Brian Krehbila of Agency Creek Expressions, LLC who will lead participants in shaping a small, clay model of a Willamette Valley Kalapuya River Canoe.
During the program, Brian will assist participants, answer questions and offer storytelling. The group will be guided in making a small, model shovel-nose canoe out of clay approximately five-six inches long. Brian will also share about his own canoe made with traditional Native American techniques.
"WEBS is excited to bring Brian and Agency Creek Expressions back this year," said WEBS Director Chrissy Smith. "Brian shares from his heart and cultivates an understanding and respectful dialogue around the past and present life of Oregon's first people."
Over the past few years, Brian has partnered with WEBS to lead classes in basket making, tule and cattail mat workshops, and more. This year, he suggested creating a family-friendly program centered around traditional canoes. A skilled canoe builder, Brian developed a hands-on program to help connect participants to the traditional practice of canoe building while creating a piece they can appreciate from home.
"Brian is so gracious with his knowledge and teachings," Smith added. "Over the years, I have appreciated learning and growing my understanding of local Native American tribes and traditions. As Brian shared, this experience and opportunity is, 'from me to you – from my tribes here in Oregon.'"
Brian is a member of the Confederated Tribes of the Grand Ronde and he has 15+ years of experience as a tribal educator. Although Brian is an enrolled member of Grand Ronde, his tribal lineage descends from: Niissing band of Ojibway, Chinook, Luckiamute Kalapuya, Umpqua, Iriquois, Shasta, Tillamook, Takilma, Mary's River Kalapuya, German, Irish and Spanish.
This free, family-friendly event will take place virtually on Sept. 19 from 10 a.m. – 12 p.m. All the supplies needed to build the model canoe will be provided by WEBS. Participants are responsible for picking up their supplies at the WEBS office, located at the Netarts Community Club.
To register, visit netartsbaywebs.com. You can also find the event on Facebook. This is an Explore Nature Series event. Registration is required to participate.