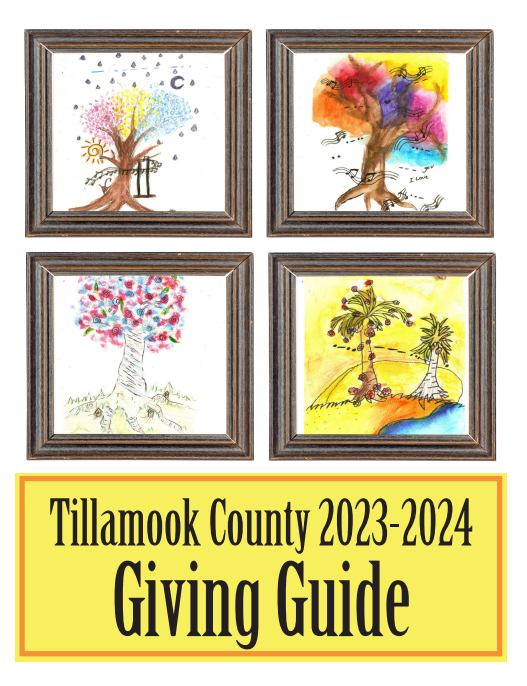 For 25 years a United States Navy A-4 Skyhawk aircraft on the corner of Hwy 101 and Long Prairie Road has greeted travelers and residents on their way into Tillamook, standing guard over the city.
Now, the iconic "plane on a stick" is coming down.
"It's in fairly poor shape," said Rita Welch, The Tillamook Air Museum Director. Welch has been advocating to take the plane down for the last few years.
"It's not sustainable and it's not meeting the museum's mission," she said. "We want to bring it in inside, clean it up, and put it on display properly where it can educate people about Naval aircraft during the Vietnam War era."
The A-4 Skyhawk was put on the stick in 1997 much to the dismay of the Navy, which owns the aircraft and several others in the museum. The Navy has said in order for it to stay on display outside it has to be painted to their specifications and properly taken care of.
"The cost associated with keeping it maintained while it's still on the stick is just too high," Welch said, "whereas if it was inside the museum we can display it properly, appease the Navy, and meet our mission of preservation and education."
Originally, the Port of Tillamook Bay Board of Commissioners contemplated replacing it with another aircraft, however Welch said the only reason the A-4 Skyhawk has lasted this long is because it's a Navy aircraft made out of metal. Replacing it with a civil aircraft would likely deteriorate in a few years.
That's when Welch pitched the idea of replacing it with a 3-D metal rendering of a K-Class Blimp – a symbolic reminder of Naval Air Station Tillamook and its heritage as a WWII dirigible hangar that served and protected the community.
Luckily, Welch knew just who to talk to in order to get the ball rolling.
"I knew Tillamook Bay Community College had a welding program, and I thought, what a great project for them to work on," she said. "This is something that people will see for years to come as they drive into Tillamook, and it will be something these welding students created and get to be proud of. TBCC is a backdrop to this community and one of our other goals with this project was the chance to highlight the great work that they are doing."
Ron Carlbom, the Welding Technology faculty at TBCC, jumped at the idea. His students have been steadily working on fabricating the metal rendering of a blimp for the last few months, and anticipate having it completed by the end of spring.
"This is a pretty significant project for us," Carlbom said. "It's a fantastic feeling to get to work on something that will have such an impact on our community. It's a wonderful town and it's been very good to me, so this feels like a way that I can give back. And at the same time, we get to show off a little because we are showing the whole community that this is what our welding students are capable of."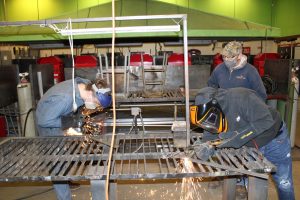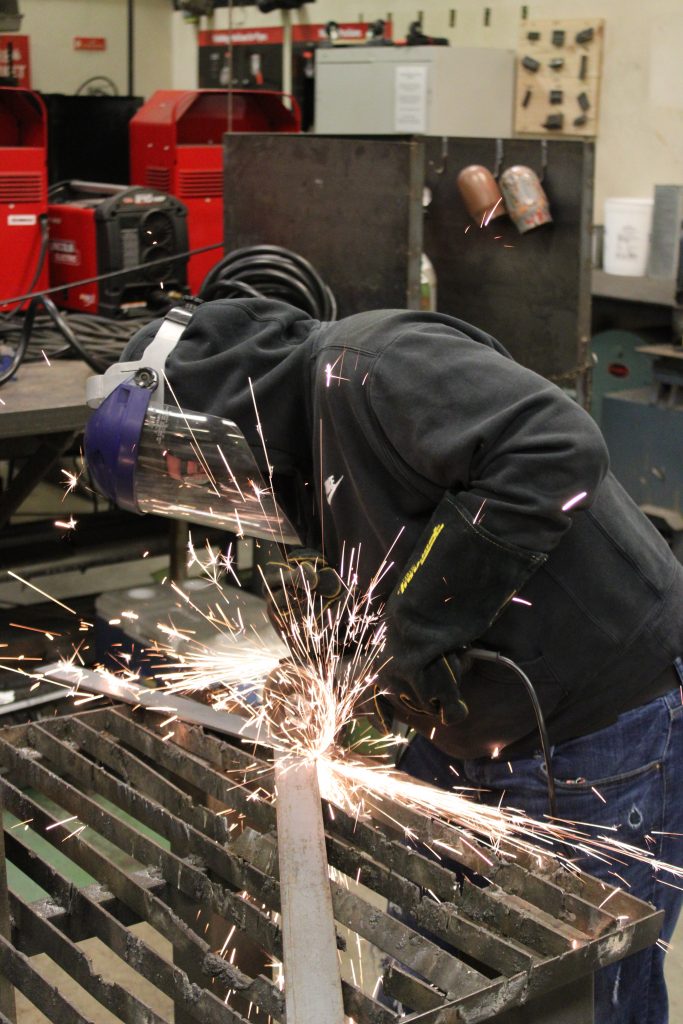 Welch added that she was drawn to the idea of a blimp because the museum is housed in one of the last remaining WWII blimp hangars in the country, and the only one open to the public. Once completed, the blimp will measure 25 feet long, and six feet in diameter.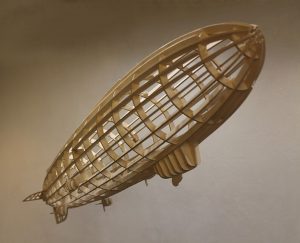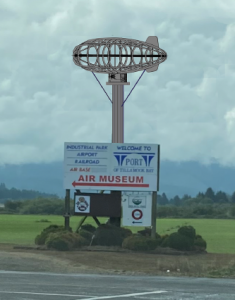 Several of Carlbom's stick and mig welding students have been working on the blimp project in some capacity for the last two years when Welch originally approached them with the idea.
"The plane is so iconic, to replace it with this blimp is going to be a really big deal," said Morgan Waldhart, a second-year welding student.
While the Port of Tillamook Bay is aware there will be some community heart burn regarding the plane coming down, the Port Commissioners are in agreement that it is what's best for the plane and the museum.
"Bringing it down was not an easy decision," said Port of Tillamook Bay Commissioner Sierra Lauder. "It's been on our radar for a long time, but the struggle has been finding something equally iconic to replace it with and there couldn't be a better outcome than what we've put together… And while we've anticipated that the community might not be overly enthusiastic about this decision, what we're seeing instead is that people who have some affiliation with the military are coming forward and saying they really understand that the plane in its current location is not particularly respectful. So it's been nice to hear from those veterans who recognize this move as being a way to actively honor that plane and its history."
"The number one thing to keep in mind is that we are here for education and preservation," Welch added. "So we are choosing to be the best stewards we can be of the aircraft."
Welch said the A-4 Skyhawk will be on display immediately after it comes down while they refurbish it. "We have rehabbed several planes at this point, so I am confident we can do a good job in house that will please the Navy," she said. "And it will be exciting for people to get to see it up close for the first time."
The project is being partially funded through Visit Tillamook Coast.