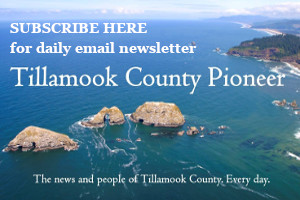 CANNON BEACH, Ore. –
Ecola
 State Park is closed until further notice due to damage to the park's sole entrance road.
Recent heavy rains caused a sinkhole in the road and reactivated a longstanding landslide that triggered a fissure in the road. OPRD staff will evaluate the best way to repair the damage. It could take several weeks or longer to reopen the park, said Park Manager Ben Cox.
"The road has taken a beating over the years from stormy coastal weather, erosion and heavy traffic," he said. "We want to thank visitors for their patience while we make the necessary repairs to allow safe passage."
Visitors may still access the park via the Tillamook Head Trail. Visitors to the north coast are encouraged to explore other nearby state parks: Oswald West State Park, Arcadia Beach State Recreation Site and Hug Point State Recreation Site.