EDITOR'S NOTE: Dan Haag is a familiar name for Pioneer readers as he provides insightful commentary on various subjects in his column "Littoral Life." He also reports on various organizations and happenings for the Pioneer, "in his spare time" – between managing the Manzanita Visitors Center and writing for various other publications. As hundreds of comments on social media said, "Congratulations, Dan – well-deserved, excellent selection Manzanita. You have definitely been a bright light steering us through these rough waters with trustworthy, uplifting and humorous messages. Thanks for all you do!
Dan Haag was named Manzanita's Citizen of the Year at the Jun. 9 meeting of the city council. Haag is a part-time independent contractor who runs the Manzanita Visitors' Center.
Announcing the honor, Mayor Mike Scott said Haag, "faced several critical challenges this past year, most of them related to the town virtually shutting down for some months."
He added that Haag was a "unifying and positive force for good in our community. He brought together businesses, citizens, and governments of the surrounding area. He became, in effect, the face of Manzanita to people from all over the world."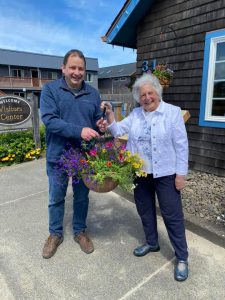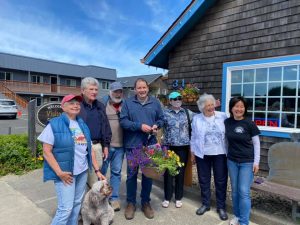 Did we mention that there were hundreds of kudos, congrats and comments on social media?
Here are a few of them:
Vera Wildauer – Absolutely well deserved!!!
Dwight Onchi – Congratulations – Dan….Well deserved….Thanks to your dedication to Manzanita, Nehalem & Wheeler… ⚘
Renae Black Scalabrin -n This is SOOO wonderful!!! Dan is beyond deserving of this honor!!!!
Anne Billow – Yes!! I look for his positive posts every single day without realizing that he is our sunshine on a rainy day…every day.. regardless of the weather thank you Dan Haag for rocking our world all day every day! .
Madeline Olson – Excellent choice. He has done an outstanding job in difficult circumstances.
Danielle Johnson -Much deserved! Dan is a hero!!!
Robin Lieberman – Excellent! Dan Haag is the heart and soul of Manzanita and keeps us laughing
Barb Fenton Schaumberg – The best choice! Dan is such a Manzanita mascot and so kind and thoughtful and supportive of everyone who loves Manzanita!
Darcey Kline – Congratulations! We need a Dan Haag day!
Gladys Jacobsen – I like his Facebook entries!! Always informative and newsy!!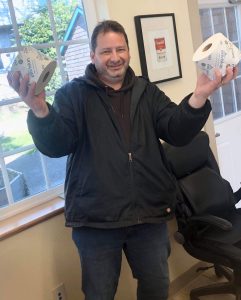 Carolyn Greenwood – Congrats Dan Haag! Can't think of a better recipient for this honor! Thank you keeping us informed (and humored) during this crazy year!
Julianne L. Johnson – Dan you are the best fit possible for the Visitors Center. The community is so fortunate to have you there. I am glad you and your work were recognized by the City.
ML Meck – Congrats, Dan! Your hard work is truly appreciated.
Rick Bernard – I enjoy your literary skills as you shine the light on all the good things happening in our little village! Blessings!
Peggy Schumann -Well Deserved!!!! Thanks for all you do for our little City of Wheeler #wheeleroregon
Hannah Roles – Dan your words have brought me comfort and laughter all throughout the last year in a time when I sorely needed them. You are a serious example of what happens when a wordsmith steps up in service of their community. I'm so glad we get to celebrate you.
Pelican & Piper
He absolutely brought businesses together & gave us so much support . I am forever a Fan of Dan!
From Dan Haag:
I'm very humbled and honored. Thank you all for the many kind words. And thank you for keeping the lines of communication open this past year. We are truly fortunate to be surrounded by so many people who cherish our communities. We're conquering this challenge together.
Manzanita's Citizen of the Year is selected by a committee of former honorees.