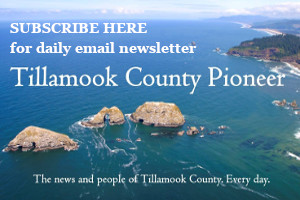 On December 9th, due to COVID restrictions, family and Tillamook County Sheriff's command staff gathered to present Deputy Ben Berger the Oregon State Sheriff's Association's Award for Valor. This was based on his involvement in a warrant operation where he prevented the injury and likely the death of Deputy Greiner. He was nominated for the award a few months ago and we had hoped to give it to him at the conference this year but unfortunately the conference was cancelled.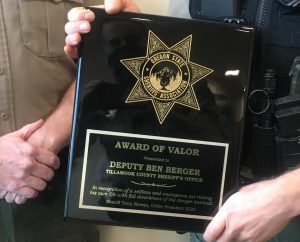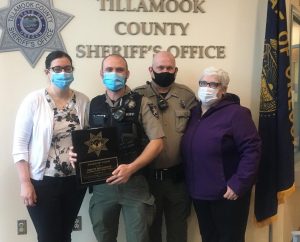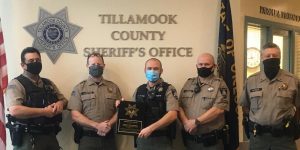 The incident that Deputy Berger was involved with that led to the award was follows:
On April 28, 2020, Tillamook County Deputies assisted the US Marshal's Service with attempting to locate an armed career criminal suspect that had fled from them. The Marshals had attempted to conduct a traffic stop and take a subject into custody. As they initiated the stop the vehicle fled and the Marshals lost the vehicle.
Deputy Ben Berger and Deputy Dennis Greiner responded to the area where the suspect vehicle had last been seen. Deputy Berger developed information leading them northbound on Kilchis River Road to locate the vehicle.
Deputy Berger searched the area and was able to locate fresh tires marks on a newly graded road. Both Deputies got out of their vehicle to investigate and located the vehicle. The vehicle began to accelerate driving towards Deputy Greiner, who was standing outside of the patrol vehicle.
Deputy Berger realized that Deputy Greiner was in immediate danger and would likely be struck by the suspect vehicle. Deputy Berger accelerated his patrol vehicle and struck the suspect vehicle on the passenger side which prevented Deputy Greiner from being hit. The suspect vehicle was damaged in the collision but was able to again flee the area.
The suspect was eventually apprehended by responding law enforcement units and members from the US Marshal Service.
Deputy Berger's quick action and courageous efforts on that day prevented the serious injury or death of his fellow deputy and hampered the suspect's ability to flee. Deputy Berger was then able to provide information to additional law enforcement units so the suspect could be taken into custody.