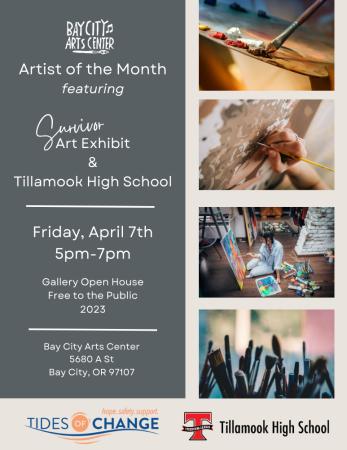 From Seaside Aquarium
An elephant seal, dubbed Barnacle Bill, became quite popular when he decided to haul out on multiple northern Oregon beaches over Memorial Day weekend, filling both visitors and locals with concern for his well being. Since he created quite the stir, we thought we would give you all an update on his travels and current condition.
"Barnacle Bill" first showed up on Falcon Cove beach on May 17th. While he was lively, he did not look so good. He was going through his annual molt which is a process where he sheds his old coat of fur and grows a new one. During this process large hunks of skin will often come off along with the old fur. This can create large sores and open wounds, but it is a natural process. He also had patches of pelagic gooseneck barnacles growing on his back and flippers, hence his new name "Barnacle Bill".
When molting, elephant seals haul out. The saltwater irritates their open wounds and they have a hard time regulating their body temperature. Being out of the water allows them to warm up and get some well needed rest. This is exactly what Mr. Bill was doing. He spent a few days at Falcon Cove before continuing his tour of the north coast. His next stop was Arch Cape. He arrived in Arch Cape on May 20th but by May 23rd he headed down toward Rockaway and spent a few nights on the more secluded, Nedonna Beach.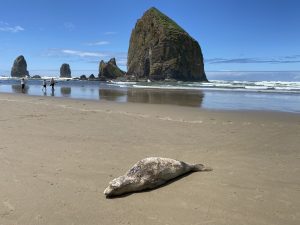 Looking for a little more attention, Barnacle Bill set his sights for Cannon Beach and during the busy Memorial Day Weekend camped out right in front of Haystack Rock. Staff from the Haystack Rock Awareness Program did a wonderful job watching over him, making sure people and dogs did not disturb his peace. They also educated people about him, alleviating fears that he was dying and needed help. After the busy holiday weekend Barnacle Bill headed back south where he discovered Manzanita. By this time some of his open sores from the molting process had started to heal and was beginning to look more like a "normal" seal again.
On June 1st Barnacle Bill left the beach for good. Over the two weeks that he visited we received a lot of calls from concerned citizens and with the help of State Parks and the Haystack Rock Awareness Program we were able to educate people about the natural process of molting and help give him the space and rest he needed to heal and get better. We are so thankful for all our partners and this wonderful community.