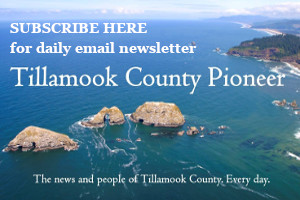 By Dan Haag
Dixie's Vino is moving full speed ahead to open its doors sometime this spring at 174 Laneda Avenue in Manzanita.
Formerly Vino Manzanita, Dixie's Vino is owned and operated by Dixie Lee who, after a long layoff, is eager to get back to doing what she loves best.
Like several Manzanita businesses, Vino Manzanita suffered heavy damage from the tornado that hit Manzanita in October 2016. Lee had every intention of repairing the building and reopening, but family matters suddenly moved to the top of the priority list.
"It was about that time that my mother had major surgery," Lee said. "I went back-and-forth to Northeast Oregon to take care of her."
Though there was no second-guessing when it came to putting family first, Lee admits she felt sad about leaving her clientele, who she counts as family.
As her mother's health gradually improved, Lee's thoughts slowly shifted to reopening in Manzanita once life settled a little.
"I was hoping to open again in a different spot, I just didn't know when or where," she said, adding that available retail spaces were few-and-far-between.
She also realized that she was enjoying the down time, something that was in short supply in her years at Vino Manzanita.
"I have been enjoying being able to read a book, or watch a movie, or walk on the beach," she said.
As she explored the idea of again running a full wine bar, Lee checked out an open space next to Marzano's Pizza, but decided to take a step back and examine her priorities.
"With everything that happened I felt like I needed to downsize a little," she said.
When the space at 174 Laneda Avenue became available, it seemed like a sign that smaller was indeed better. Lee rented the space started work on it late last summer.


She was able to incorporate the wine bar from Vino Manzanita, something that lent a welcome familiarity to the endeavor. "I'm extremely happy about that," she admitted.
Her logo and signage got an update, however, courtesy of Nehalem's Ryan Pedersen.
Work on the space itself has included placing the bar, adding necessary shelving, new paint, plumbing for a dishwasher, and the countless other tasks that go into getting ready to open.
To fit her new space, Lee streamlined her business plan and gave Dixie's Vino a more focused approach.
While smaller than her previous location, Lee's wine bar will still specialize in Northwest wines – Oregon, Washington, California – as well as international wines, champagne and ports.
"This will be a bottle shop and tasting room, with nothing open except to taste," she said. Of note is that the space will not feature a kitchen, something Lee acknowledges is a major downsize. There is also no seating as everything will be offered as tasting only or to go.
Still, there are benefits for what is largely a one person outfit: no more food prep and the associated cleaning chores.
Aside from wine, Lee does plan to offer beer, cheeses and salamis to go and acknowledges that as she finds out what her customers want, Dixie's Vino will continue to morph to accommodate.
Lee is excited about having a location on Laneda where she can take advantage of summer foot traffic. She's also looking forward to the camaraderie of seeing familiar faces. Judging by the amount of feedback she's received, the feeling is mutual.
"Ever since I put the new signs on the doors, people have been excited," Lee said, adding that despite a touch of new business anxiety, she's feeling the excitement as well.
"I ready to be busy and to see everyone again."
For updates on Dixie's Vino, visit http://www.facebook.com/vinomanzanita/