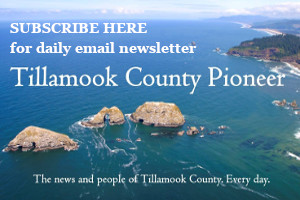 Last night, April 14, 2022, Tillamook County Sheriff's Office Deputies arrested Alex Wesley Morlang Hurley, 26, of Tillamook, on multiple charges stemming from a motor vehicle crash which occurred On March 31, 2022, on Kilchis Forest Rd. The investigation revealed that Hurley was the driver of a vehicle with three other male adult occupants when they left the gravel roadway, struck a tree and plummeted down a steep embankment, landing
partially in the river below.
Two passengers were able to free themselves from the vehicle and walked to a residence to call for help. Hurley stayed with the vehicle until first responders arrived and was then flown by helicopter to a Portland area hospital. A rear seat passenger, identified as 18-year-old Henry Joseph Gernert, of Garibaldi, was located deceased in the vehicle. It was later determined that the cause of death was from head trauma sustained during the crash.
Hurley was booked into Tillamook County Jail on charges of Driving Under the Influence of Intoxicants, Reckless Driving, Reckless Endangering, Assault 2 and Manslaughter 2.
"This is such a sad and completely avoidable tragedy. Our thoughts and prayers are with the friends and family of Henry Gernert," said Tillamook Sheriff Joshua Brown.