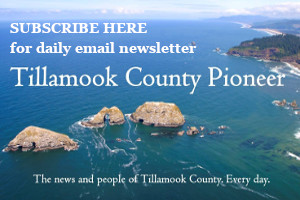 EDITOR'S NOTE: We've all watched in wonder, hoping to see the OPEN sign, and some of us have received previews of the work being done at the Salmonberry Saloon snuggled on the banks of the Nehalem in downtown Wheeler. A locals favorite watering hole with an epic view, the re-opening of the iconic building that is being lovingly brought back to life by Patrick Rock and Chantelle Hylton became the hot topic on the North County News Facebook page.
Here is co-owner Chantelle Hylton's response to the query ….
Well hello everyone! We have our sights set on March 16th to open. We haven't announced the date yet as there are a lot of moving parts to opening a restaurant – we'll keep our Facebook page updated well in advance.
We've been working on the building 7 days a week since June – it needed a LOT of love, as most of you know. We're enjoying every bit of the work, and we're not rushing to open – doing it right the first time. It's gorgeous, and clean, and cozy, and we can't wait to have you all here and give you your old haunt back – with much-needed updates (like the deck is no longer in danger of falling into the bay, the rats are gone for good, and the dining room and bar have fireplaces – just in time for summer, ha!).
As I type our chefs Jeff and Chelsea are recipe testing our Surf Slam Burger, and nailing down our house ketchup, fry sauce, tartar, and ranch. Yesterday the kitchen was completed, with our last shelving hung, and Henry and Phil will be working on benches for the entryway and outside this coming week – just in time for Rachel to fill the planting troughs with gorgeous natives and plant nerd perennials. I'm finalizing our staff handbook and finishing up the wine list (there are so many awesome farmer/winemakers in Oregon), and Patrick is working on our first liquor order – heavy on regional distilleries with the old standards well in place.
We're building this place for you – our focus is on using the best ingredients we can get from our friends who grow and make them, while keeping our prices about the same as everyone else around here. Our margins will be thinner, but that's just fine with us when it means the salad on your plate was harvested by the person serving it to you, that your rancher is having a beer at the bar, that the cheese on your burger was made by a small local creamery just for us, that the wine you're drinking was made by a badass lady winemaker not far from here.
Re: The crowdfunded loan, Kiva invited us to be the first small business to participate in their pilot $25k loan program, and I'd recommend it highly to small business owners. Crowdfunding is an innovative way to sidestep predatory bank loan programs, empower entrepreneurs, and bring communities closer together by giving members direct access to helping support their local economies. We're not rich people, so every bit helps – if any of you have opened a restaurant before, you know everything takes twice as long and costs twice as much. But we can see the finish line and it's less than a month away!
Feel free to pop in if you see the doors open on a weekday – visitors always welcome.
And Sue – the umbrellas are on their way … and the doors are staying gold
Chantelle Hylton, Salmonberry Saloon