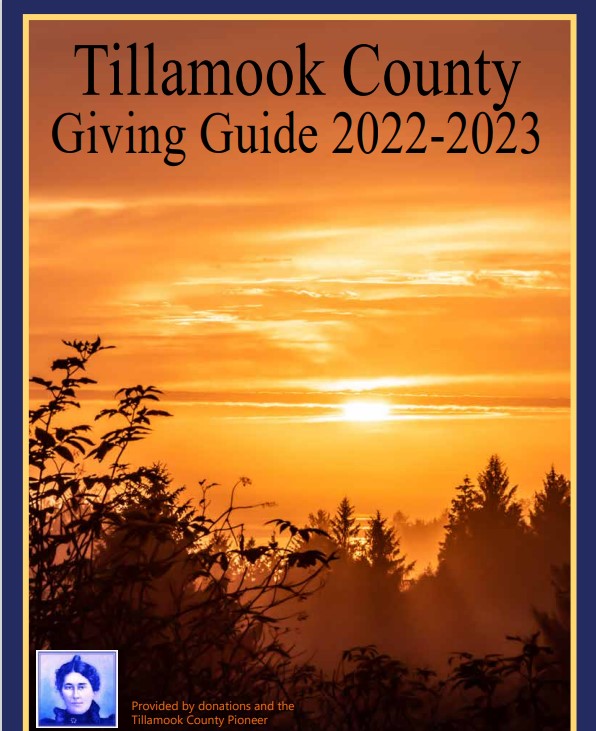 By Laura Swanson
Our national bird, the bald eagle, a symbol of strength and bravery, are often observed throughout Tillamook County. It's always a good day when you spot an eagle soaring overhead or perched along our waterways.  Since returning to my home waters about 20 years ago, one of the first things I noticed was the return of the eagles. A rare site when I grew up in the area in the 70's and 80's, now daily and even multiple eagle sightings are now common.
On Wednesday March 17th heavy equipment crews up the Trask River came upon something (a chicken?) in the river.  Further examination revealed the bird to be an eagle.  A rescue ensued with Danny Williamson scaling the steep bank to retrieve the distressed eagle. A somewhat frantic social media thread then ensued on "who to call?" to get the bird to a wildlife rescue organization.  Being "after hours" at the Wildlife Center of the North Coast, the rescuers were able to connect with local volunteers who made arrangements to shelter the bird that night, then transport it north to Astoria the following morning.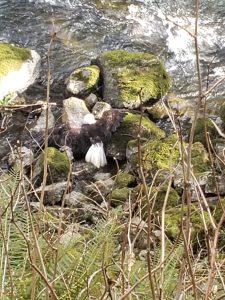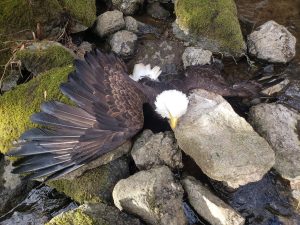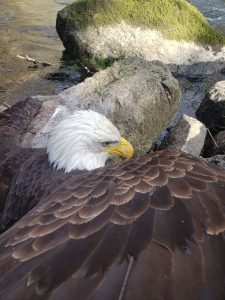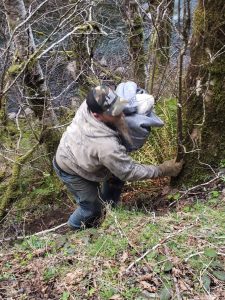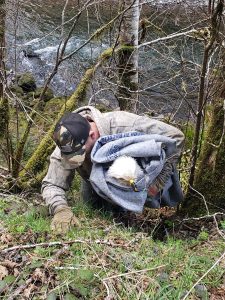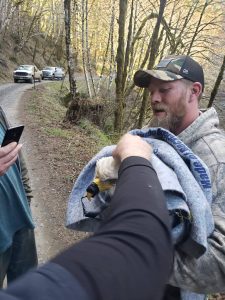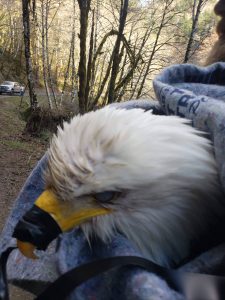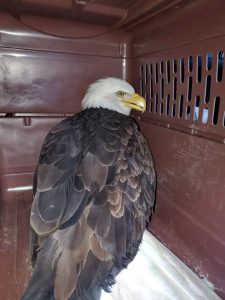 "Our organization is volunteer-driven," explained Patrick Hogan, wildlife rehabilitation coordinator at Wildlife Center of the North Coast. "We only have one staff member on duty each day and several volunteers," he explained. "We rely on our volunteers that are located in the various communities in Clatsop and Tillamook Counties to receive and transport wildlife."  When you encounter injured wildlife, particularly when it's "after hours" (evenings/nighttime – 5 pm – 9 am Fall/Winter; 8 pm – 8 am Spring/Summer; open on weekends) contact the Wildlife Center at 503-338-0331 and leave a message. They will give you information and instructions on how to care for the animal until a volunteer can be arranged to transport. (If it's a seal, turtle or mammal – should be reported to the Seaside Aquarium at 503-738-6211, immediately note its location, remain nearby to observe it, and contact the Oregon State Police Tipline at 800-452-7888 or the Marine Mammal Stranding Network (MMSN) at 1-866-767-6114.
"When we received the call about the eagle, that morning, the first tests would be for lead poisoning," explained Patrick.  "This was the Wildlife Center's first opportunity to utilize new equipment, a Lead Care kit.  To diagnose lead poisoning in the past, we'd have to draw the blood and send it to the Audubon Society to await results.  Now with our own equipment, we had the results in a matter of minutes. And the diagnosis was severe lead poisoning," said Patrick.  "In some cases, we can rehab birds that are severely lead poisoned and treat them. This eagle was given oxygen after the blood sample and initial evaluation, but we knew it was too late and already dying at that point," explained Hogan. "We euthanized because the Eagle had been struggling to breath from pneumonia, became non-responsive and started agonal breathing/unconscious gasping, and with the very high lead levels we knew we couldn't bring it back from that point since multiple systems were failing."
Hogan went on to explain that eagles are scavengers, and it can be difficult to pinpoint the source of the lead. One of their favorite foods are ducks, that often ingest lead from fishing tackle, and being eaten by eagles and other raptors, then they also ingest the lead shot.  Lead shot was banned for waterfowl hunting 30 years ago, but lead is still used in other ammunition and can be left in a gut pile, then ingested by raptors and other wildlife.  By raising awareness, and encouraging hunters to use alternative shot, and others that recreate to be careful to dispose of and retrieve fishing lead – especially if it saves our majestic national bird -the American Eagle.
There was another raptor – a redtailed hawk – that was recovered in the Trask River area March 23rd that also didn't make it. According to Patrick at the Wildlife Center, the hawk's blood tests were negative for lead and there was no other significant cause of death noted from the post-mortem examination.
The Wildlife Center of the North Coast cares for a variety of critters, and the Spring season means it's baby bird time.  Please use care as you are pruning and doing yard cleanup (many birds are low or ground nesters) to not disturb "hidden" nests.
Here's a great flyer from the Wildlife Center about how to assess baby birds and other wildlife – remember babies might seem abandoned, but mothers are often close by, and leave the young where you found them (unless it's in an unsafe place) and observe them to determine if the mother is indeed near by.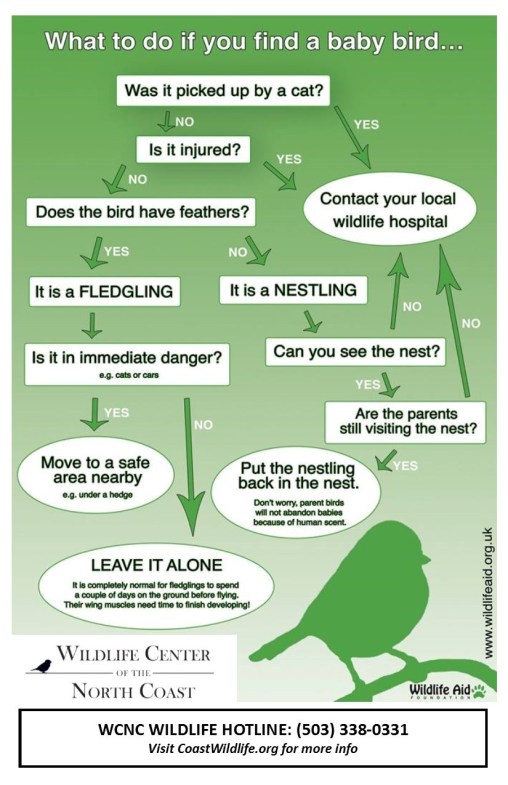 The Wildlife Center is doing a fundraising campaign to increase seabird area and provide more outreach and education for the community with plans to construct a seabird display enclosure! This space will serve multiple purposes. First of all, it will be a new home for our educational bird, Cormie, which will improve her quality of life and long term health. Secondly, this new habitat takes the Wildlife Center one step closer to opening up to the public as a conservation education facility. We need our community's help to reach this goal!   coastwildlife.org/cormiedisplay/
Wildlife Rescue
If you encounter injured, sick or orphaned wildlife:
Be aware that any wildlife species can cause injury.
If you can safely capture the wildlife, cover its head and body with a towel or clothing.  Keep the wildlife away from your face and hold it down by your hips.
Place it in a cardboard box with holes big enough for air flow and a towel on the bottom.  Close the lid and put the box in a dark, quiet area.
Keep the wildlife warm, especially if it is wet.
Keep human contact to a minimum.  Stress kills – you are a predator to wildlife.  Leave the wildlife alone in the box; do not handle or check on it and keep children and pets away.
Call our wildlife hospital at 503-338-0331.  If you reach the recording, speak slowly and leave your phone number and reason for calling.  We will return your call as soon as possible.  Please DO NOT use e-mail to inform us of a wildlife emergency.
Do not attempt to care for the wildlife yourself.  Please do not give it any food or water without first speaking with us.
If you find young wildlife that you think is abandoned, make certain it is truly orphaned.  The parents may be nearby but not visible.  Call us before removing any young wildlife from its location.
If you are interested in volunteering or learning more about the Wildlife Center, go to www.coastwildlife.org.