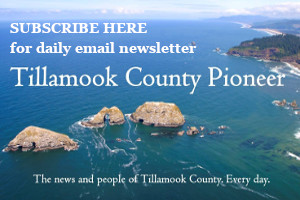 Emerging science supports the concept that "diet and food" can be used as powerful treatment interventions for multiple chronic diseases. Adventist Health Tillamook provides this seminar presentation from Dexter Shurney, MD, MBA, MPH, current President and Fellow of the American College of Lifestyle Medicine, Senior VP of Clinical Affairs and Chief Medical Officer of Zipongo, a virtual health and wellness company. Board-certified in general preventative medicine and public health, Dr. Shurney is also a facilitator for CHIP (Complete Health Improvement Program).
Eat, Sleep and Live for Your Optimal Health
Join us April 5 – 6, 2019! An evening presentation on Friday April 5th about sleep; then on Saturday April 6th about optimal health; a complimentary lunch will be served at TMRC; and an afternoon walk at Bay Ocean Spit wraps up the weekends activities.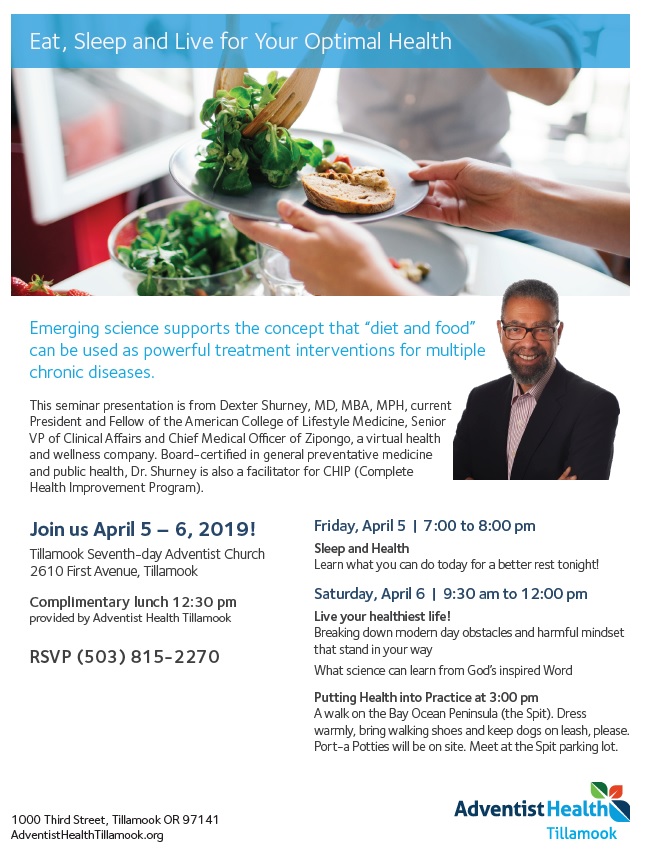 Friday, April 5 | 7:00 to 8:00 pm at Tillamook Seventh-day Adventist Church
Sleep and Health – Learn what you can do today for a better rest tonight!
Saturday, April 6 | 9:30 am to 12:00 pm
Live your healthiest life!
Breaking down modern day obstacles and harmful mindset that stand in your way
What science can learn from God's inspired Word
Friday evening and Saturday morning presentations to be held at Tillamook Seventh-day Adventist Church,
2610 First Avenue, Tillamook
Complimentary lunch 12:30 pm
provided by Adventist Health Tillamook
RSVP (503) 815-2270
1000 Third Street, Tillamook OR 97141
AdventistHealthTillamook.org
Putting Health into Practice at 3:00 pm
A walk on the Bay Ocean Peninsula (the Spit). Dress warmly, bring walking shoes and keep dogs on leash, please.
Port-a Potties will be on site. Meet at the Spit parking lot.