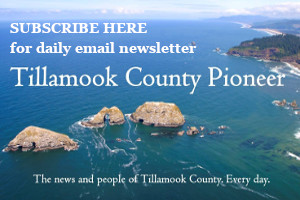 By Laura Swanson
One person's "weed" might be another's "rose" … an interesting lesson from Master Gardener's classes was the "definition" of a weed as simply "any plant that is in the wrong place, or displaces native plants." Hmmm – there are numerous examples of "good" plants that go rogue — strawberries that send runners everywhere, the dill that seeds the entire garden. Then of course there are our infamous introduced "ornamental" plants that become bullies and take over. One such example is knotweed. An aggressive "bamboo" like plant that has spread throughout Tillamook County's watersheds. There are many efforts at eradicating this aggressive plant; and there are also innovative ways to "use" the plant, including local "bamboo" honey.
Here is another approach to this "invader" – let's eat it!
On Monday, April 8th from 5:30 to 8 pm at the Salmonberry Saloon, Chef Andy Catalano of Alimento Astoria will grace diners with multiple approaches to this versatile plant.
Chefs around the world delight in the unlimited ways to use shoots, stalks, leaves, flowers and roots of this plant that conservationists curse. Those who know chef Andy know he can wow through pickling and preserving, combining the freshest local ingredients into tasty dishes, and pulling together amazing pairings through sauces. Chefs from Salmonberry Saloon are on deck to add their touches from the savory to the sweet!
This multi-course meal (with dessert!) will be interspersed with brief talks from Tao Orion, author of Beyond the War on Invasive Species, and leaders from Lower Nehalem Watershed Council and Tillamook Estuaries Partnership who are working to improve our regional ecosystems.
Please also consider attending the accompanying book talks in Astoria and Manzanita on Sunday the 7th.
Get tickets here: http://m.bpt.me/event/4191620
The Salmonberry Saloon is located at 380 Marine Drive, Wheeler.