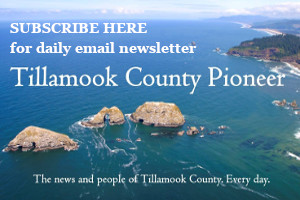 Coronavirus Relief Fund Cultural Support (CRFCS) grant awards totaling $213,444 will be distributed to 11 organizations in Tillamook County through a partnership between the Oregon Cultural Trust and the Tillamook County Cultural Coalition (TCCC).  The funds, allocated to the Cultural Trust for Oregon cultural organizations facing losses due to the COVID-19 health crisis, were made available through a $50 million relief package for Oregon culture approved by the Emergency Board of the Oregon Legislature in July.  More than 600 organizations statewide were awarded a total of $25.7 million.
"Many cultural organizations and institutions have closed their doors to help keep us all safe during this pandemic.  These grants will mean that more than 600 Oregon arts and culture organizations across our state's counties and Tribes will be able to keep up their vital creative work," said Governor Kate Brown. "Everything from museums to fairgrounds to the summer events we all know and love can continue to enrich our lives—connecting us to one another and giving us the hope and inspiration we need."
"These funds are life blood to Oregon's cultural community," added Chuck Sams, chair of the Cultural Trust Board of Directors.  "While they won't replace all the losses suffered during the pandemic, they will ensure Oregon culture survives this crisis.  We are deeply grateful to the Oregon Legislature for making this possible."
"Due to the incredible need, we were able to fund a percentage of organizations' eligible expenses," said Brian Rogers, Cultural Trust Executive Director.  "Smaller organizations received a higher percentage of their eligible expenses.  The final awards represent a statewide, equitable distribution plan that was approved by our Board of Directors, the Governor's Office, Business Oregon and our legislative sponsors."
The intended use of the CRF Cultural Support funds is to provide financial assistance to cultural nonprofit organizations and community venues that have canceled or postponed public programming because of public health executive orders associated with the COVID-19 pandemic.  Guidelines for the funding are in accordance with the U.S. Department of the Treasury.
Congratulations to the following Tillamook County organizations awarded CRFCS grants:
Art Accelerated
Fairview Grange #273
Garibaldi Museum, Inc
Hoffman Center for the Arts
Kiawanda Community Center
Oregon Coast Scenic Railroad
Pine Grove Community House
Port of Tillamook Bay
Tillamook Association for the Performing Arts (TAPA)
Tillamook County Fairgrounds
Tillamook County Pioneer Museum
About the Oregon Cultural Trust
Created in 2001 by the Oregon Legislature, the Oregon Cultural Trust is a testament to how much Oregonians value culture.  No other state provides a 100 percent tax credit to inspire cultural giving.  As uniquely Oregonian as public beaches and the bottle bill, the Oregon Cultural Trust was designed as an ongoing funding engine for arts and culture across the state.  Oregonians fund the Cultural Trust.  The Trust, in turn through county coalitions and tribes, funds the artists, potters, poets, acrobats and dreamers who define our famous quality of life.  In 2019, Oregonians gave $4.5 million to the Cultural Trust.  Sixty percent of that went straight back to the field. The remaining 40 percent helped grow our permanent fund.  Our three grant programs fund our five Statewide Partners, 45 County and Tribal Coalitions and 1,450+ qualified cultural nonprofits through competitive Cultural Development Grants.  More information at culturaltrust.org.
About TCCC
The Tillamook County Cultural Coalition (TCCC) seeks to expand the awareness of our unique county culture.  In doing so, we establish ways to honor and celebrate the arts, humanities and history that are part of our own story.  In the process, our citizenry becomes more educated about our most valuable natural resource – the people in our community. The result is a more active, interested and creative environment in which to live and share our lives.  For more information on TCCC, including a list of previous grant recipients, visit the TCCC website at: http://www.tcpm.org/tillamook-co-cultural-coalition.html.  Join our Facebook Group for regular news and updates (facebook.com/groups/TillamookCountyCulturalCoalition).