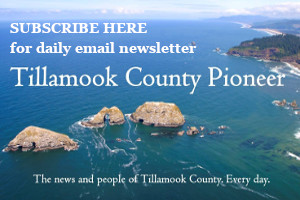 COVID-19 cases and hospitalizations are increasing rapidly in Tillamook County, specifically the much more contagious Delta variant. In July, we celebrated the decline in Covid cases after more than a year. We enjoyed what has turned out to be a very brief respite from restrictions like wearing masks and social distancing. Unfortunately, the data tells us that it is now necessary to implement some of these restrictions again.

Here is the data we are looking at:
Continued steep increases in Oregon's daily cases and hospitalizations. (OHA Covid-19 Weekly Report, 

8/18/2021

)

A 53% increase in new cases for the week of 

Monday

, 8/9 through 

Sunday

, 8/15, compared to the previous week.
546 new COVID-19 hospitalizations, up from 224 last week. That marked the fifth consecutive week of increases.
46 reported COVID-19 related deaths, up from 40 reported the previous week.
Increasing concentrations of Sars-CoV-2 virus DETECTED in the sewage tested from the Nehalem Bay Wastewater Treatment Plant.

Here is how we in Tillamook County compare to the State of Oregon and to our neighboring counties:
Although many of us are fully vaccinated, far too many are not. It's unfortunately the case that the Delta variant is 
much more contagious
 than earlier Coronavirus variants. Also, fully vaccinated people have been shown to become infected with Delta, although in nearly all cases they will have no or only mild symptoms. About 90% of people hospitalized now (in Oregon and nationwide) are unvaccinated. Those hospitalized are younger than earlier in the pandemic, and they are very sick, and they are dying. Finally, fully vaccinated people, even without symptoms, can still spread the disease to unvaccinated folks, including children. That's why the CDC recommended mask wearing for all unvaccinated 
and vaccinated
 people, and why Governor Brown recently declared a statewide indoor mask mandate.
When EVCNB was founded, we concentrated on helping our community prepare for a Cascadia subduction zone earthquake and tsunami.  Now we know that the disasters we need to prepare for include tornadoes, wildfires, and pandemics.
Please join us in protecting yourself and our community by:
WEARING YOUR MASK

when indoors (except in your own home)
outside when a mask is required or when you're in a crowded area

MAINTAINING A SAFE DISTANCE from others who do not live in your household
WASHING (OR SANITIZING) YOUR HANDS OFTEN
Avoiding contact with people who are sick
Avoiding large gatherings, and minimizing unnecessary travel
If you develop symptoms that suggest Covid-19, please GET TESTED. Testing is available at local pharmacies, through your doctor, through Tillamook County Community Health, and at the Rinehart Clinic and Adventist Hospital and Clinics.
Finally, please GET VACCINATED!  Vaccines are available for people 12 years old and older NOW.
WE CAN AND WILL GET THROUGH THIS IF WE WORK TOGETHER AND FOLLOW THE SCIENCE. 
EMERGENCY VOLUNTEER CORPS OF NEHALEM BAY
VISIT OUR WEBSITE 
You can stay current on all EVCNB events, training classes, ways to get involved, information and tips in personal and community preparedness by visiting our website, evcnb.org.