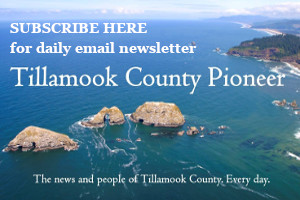 The Tillamook County Pioneer is pleased to once again bring you the Lighting Up Tillamook County Contest. JOIN IN THE FUN – Enter the LIGHTING UP TILLAMOOK COUNTY contest – send  PHOTO(S) and the address/location of the BEST light displays in the County and we'll  feature your displayt on the Tillamook County Pioneer, our social media pages and – here's the best part – readers will vote on the BEST displays – and PRIZES will be awarded… email your address and contact information and PHOTOS to editor@tillamookcountypioneer.net or fill out this Google form and send your photos to enter:   tinyurl.com/2022tillamooklights
Here's a link to the current map – we are updating daily as more entries come in – get your entries in TODAY … Contest end Dec. 22nd.
https://tinyurl.com/2022TillamookLightsMap
The coming weekend is FULL of holiday light parades – Friday December 16th in South County; Saturday December 17th in North County starting at 7 pm; and the Porch Parade in Bay City at 6 pm.
The Nutcracker and much more coming up … here's the link to the Tillamook County Holiday Happenings:
https://www.canva.com/design/DAFSKYcPrVc/tvP2oyZmg2_X1TpgdGMKQg/view?utm_content=DAFSKYcPrVc&utm_campaign=designshare&utm_medium=link2&utm_source=sharebutton&fbclid=IwAR3rie-Q_kc9fUz7Bz2kCSuPqFU95sYxzfLf4-saahgTLg4bXbtCwUKz3Xc