32nd Annual American Lung Association Reach the Beach ride from Portland to Pacific City, OR – Fundraising ride offers cyclists route lengths of 100m, 75m, 50m and 25m to support the Lung Association's mission to save lives by preventing lung disease and promoting lung health.
Registration and ride begin at Tualatin Horizon Christian High School, 23370 SW Booners Ferry Road in Tualatin, OR at 6 a.m. and continues, depending on chosen ride length, through Oregon wine country, Carlton, Amity and Grand Ronde. All riders will end their treks at Pelican Pub, Cape Kiwanda at 33180 Cape Kiwanda Drive, Pacific City, OR 97112 and enjoy a post-ride celebration at Cannon Beach.
WHEN: May 14, 2022 with staggered start times/locations beginning at 6 a.m. Traffic alert for drivers in the area from Grand Ronde to Pacific City, be prepared for bicyclists along the route throughout the day.
To learn more and register (through May 14, 2014 at 5:00 a.m.) at ReachTheBeachOR.org.
The event is to raise funds and awareness for the American Lung Association's mission to save lives by preventing lung disease and promoting lung health.
Participants cycling through scenic Tualatin, taking in the green valleys of Oregon's famous wine country, and cycling the final 25 miles of the ride directly across from the beautiful Pacific Ocean before ending in Pacific City.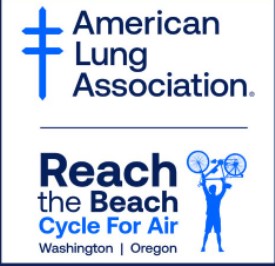 About the American Lung Association
The American Lung Association is the leading organization working to save lives by improving lung health and preventing lung disease through education, advocacy and research. The work of the American Lung Association is focused on four strategic imperatives: to defeat lung cancer; to champion clean air for all; to improve the quality of life for those with lung disease and their families; and to create a tobacco-free future.
For more information about the American Lung Association, which has a 4-star rating from Charity Navigator and is a Gold-Level GuideStar Member, or to support the work it does, call 1-800-LUNGUSA (1-800-586-4872) or visit: Lung.org.