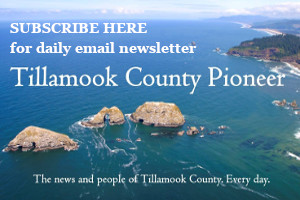 By Amy Schmid, Administrative Program Specialist, & Jessica D. Linnell, PhD, Assistant Professor of Practice, Family & Community Health, OSU Extension Service, Tillamook County
Did you know that there is an Extension Office in or near the more than 3,000 counties of the United States? Every state and every county or region of each state has an Extension Service to serve the communities that live there. Here is some history of how that came about.
The Morill Land Grant Acts of 1862 and 1890 gave land to every state in the United States to be used to build public universities, and were called "land grant universities." This made college available to everyone, not just those who were wealthy. Oregon State University is Oregon's land grant university.
In 1914, the Smith-Lever Act was established by Congress to make the education and research at public universities broadly available to all citizens, not just those attending the universities, and provide that access throughout a lifetime. A system of cooperative extension services was created so that individuals, farmers, business people, organizations, and community leaders had access to research-based information and current developments in agriculture, home economics, public policy/government, leadership, 4-H, economic development and many other related subjects to educate rural Americans.

Figure 1. NIFA's Integrated Approach to Science (figure taken from the NIFA Strategic Plan)
Today Extension works to translate research into action. From the United States Department of Agriculture's National Institute of Food and Agriculture's website:
University faculty members, who are disciplinary experts, translate science-based research results into language — written, verbal, and electronic — appropriate for targeted audiences. County-based educators work with local citizens and interest groups to solve problems, evaluate the effectiveness of learning tools, and collect grassroots input to prioritize future research. By living and working in communities, county educators are able to rely on existing relationships to respond to local needs, build trust, and engage effectively with citizens.
Extension in Tillamook County has had a long history of strong support from the community. An example of that was in 1986 when 63% of voters approved a ballot measure to establish a "service district" that would provide local funding for the Tillamook County Extension Service through a percentage of property taxes. The funding generated from the service district supports the administrative personnel and operations.
The service district is only one portion of the financial framework. OSU campus is a strong partner in that it provides salaries for the faculty as well as research-based information and knowledge to share with the community that make up the framework of Extension.
The Tillamook Extension Office would not be successful without one of these pieces. Collaborating and working together as partners, sharing the risks and benefits, we can make a much bigger difference for the people we serve. The financial investment from the people in Tillamook County plus the support provided by OSU campus enables the Extension Service the stability to carry out its original mission, to extend research and education from the OSU campus, and make those resources available to everyone in the community throughout their lifetimes.
Sources:
National Institute of Food and Agriculture. (n.d.). Retrieved June 16, 2017, from https://nifa.usda.gov/
By Extension, Your Connection to the Programs, People, and Publications from OSU Extension Tillamook County
Seeking Answers?
Submit your questions to so we can write about what about what matters to you.
Join the conversation on Facebook or Twitter
Find us on the web.