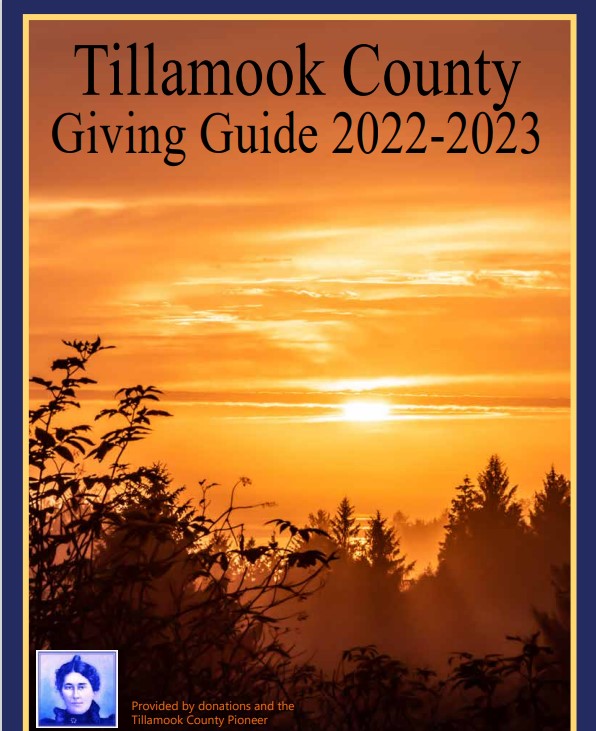 It's simple: Wearing a face covering is one of the most effective things you can do to prevent the spread of COVID-19. Starting Wednesday, June 24th face coverings are required for indoor public spaces in Multnomah, Clackamas, Washington, Marion, Polk, Hood River and Lincoln counties. NOTE: Clatsop County Commissioners voted to opt-in to the Governor's directive as well. Do your part to help keep COVID-19 from spreading, and help keep Oregon's reopening on track by wearing a face covering if you're able.
We know some people have concerns about face coverings, so we've consulted with the experts. Here are some graphics to help bust some mask myths: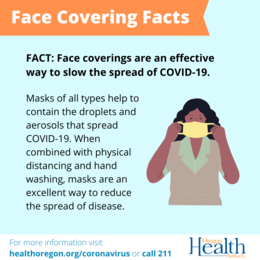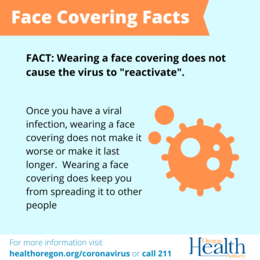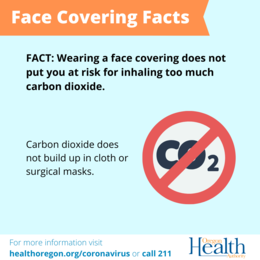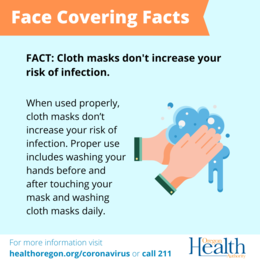 FDA advises against using hand sanitizers with methanol
The FDA is advising consumers not to use any hand sanitizer manufactured by Eskbiochem SA de CV in Mexico, due to the potential presence of methanol (wood alcohol), a substance that can be toxic when absorbed through the skin or ingested. Eskbiochem products include:
All-Clean Hand Sanitizer (NDC: 74589-002-01)
Esk Biochem Hand Sanitizer (NDC: 74589-007-01)
CleanCare NoGerm Advanced Hand Sanitizer 75% Alcohol (NDC: 74589-008-04)
Lavar 70 Gel Hand Sanitizer (NDC: 74589-006-01)
The Good Gel Antibacterial Gel Hand Sanitizer (NDC: 74589-010-10)
CleanCare NoGerm Advanced Hand Sanitizer 80% Alcohol (NDC: 74589-005-03)
CleanCare NoGerm Advanced Hand Sanitizer 75% Alcohol (NDC: 74589-009-01)
CleanCare NoGerm Advanced Hand Sanitizer 80% Alcohol (NDC: 74589-003-01)
Saniderm Advanced Hand Sanitizer (NDC: 74589-001-01)
Methanol is not an acceptable ingredient for hand sanitizers and should not be used due to its toxic effects. Consumers who have been exposed to hand sanitizer containing methanol should seek immediate treatment, which is critical for potential reversal of toxic effects of methanol poisoning.
FDA recommends consumers stop using these hand sanitizers and dispose of them immediately in appropriate hazardous waste containers. Do not flush or pour these products down the drain.
To date, FDA is not aware of any reports of adverse events associated with these hand sanitizer products. FDA encourages health care professionals, consumers and patients to report adverse events or quality problems experienced with the use of hand sanitizers to FDA's MedWatch Adverse Event Reporting program.
OHA Releases Weekly Report
OHA released its Weekly Report, which showed that during the week of June 15-21, 30,773 people were tested for COVID-19 in Oregon and 3.7 percent of those people had a positive result, up from 3.1 percent during the preceding week.
For the fourth week in a row, newly reported COVID-19 cases increased over the previous week. During the week of June 15-21, OHA recorded 1,263 new cases of COVID-19 infection, a 40 percent increase from the previous week's total of 898 new cases.
In addition, 12 Oregonians were reported to have died, compared with 16 deaths in the preceding week.
However, available evidence suggests average severity of illness among reported cases is lower than it was early in the outbreak: Hospitalizations and deaths remain well below their peaks, even after reported cases have been increasing for four weeks, and the percentage of emergency department visits attributable to COVID-19-like symptoms remains below 1 percent.
Oregon reports 171 new confirmed and presumptive COVID-19 cases, 3 new deaths
COVID-19 has claimed three more lives in Oregon, raising the state's death toll to 195, the Oregon Health Authority reported Wednesday June 24th.
Oregon Health Authority reported 171 new confirmed and presumptive cases of COVID-19 bringing the state total to 7,444.
The new cases reported today are in the following counties: Benton (2), Clackamas (8), Clatsop (1), Deschutes (4), Jackson (2), Jefferson (3), Klamath (3), Lincoln (9), Linn (1), Malheur (5), Marion (13), Multnomah (45), Polk (1), Umatilla (35), Union (5), Wasco (2), Washington (31), Yamhill (1).
Note: One case previously reported in Hood River County was determined not to be a case; the county case count has been appropriately adjusted.